Sound System Laws in Pakistan
Pakistan is among those countries where use of loud speakers and sound systems is not considered illegal and unethical. People normally even don't know about the existence of any law which prohibits the misuse of loud speaker and sound system in Pakistan. Even those people who are at the receiving end (effected by the misuse of loudspeaker) don't know about their rights and sound system laws in Pakistan.
The misuse of loud speakers and sound system is illegal and prohibited by law in Pakistan. No one is allowed to use loudspeaker at free will whether in religious places, functions halls, marriage halls, social gatherings or even at home. Frequent and illegal use of loudspeakers at religious places not only cause nuisance for neighborhood but also spread the religious hatred and secretion tensions.
Most commonly used places where misuse of loudspeaker is reported are the religious places, marriage halls, functions halls etc. The misuse of loudspeaker at religious places is extremely dangerous because it is often used to spread hatred against the other sects. That ultimately helps the terrorists to spread the false religious ideas to achieve their own motives.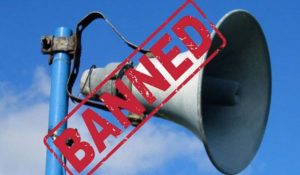 Laws regulating the use of Sound System and Loud Speakers in Pakistan
Before 2015, The West Pakistan Regulation and Control of Loud Speakers and Sound Amplifiers Ordinance 1965 deals with the misuse of loudspeaker in all the provinces of Pakistan. In 2015, Government of Pakistan launched the National Action Plan to combat the rising tide of terrorism. Under National Action Plan many laws were passed which also included the Punjab Sound System (Regulation) Ordinance 2015.
This new law provides strict punishments and simplified procedures of court. Previously anyone who misuses the loudspeaker would have to pay small amount of fine. Under the new law now the violator has to pay heavy fine and also imprisonment.
Features of The Punjab Sound System (Regulation) Ordinance 2015
The newly promulgated law has following significant features;
It provides heavy fine for those who misuse loudspeaker or sound system. According to section 6 of the Act, "If a person contravenes any provision of section 3 or 4, he shall be liable to
punishment of imprisonment which may extend to six months and fine which shall not be less than twenty five thousand rupees but shall not exceed one hundred thousand rupees".
The offences under this law are declared cognizable which means Police is empowered to lodge FIR against the violator.
The offences under this law are declared non-bailable which means Person has to spend some days in Jail before getting bail.
In this law, procedure of Summary trial is provided which means court has power to dispose-off the case in one or two days in quick manners and there is no need to adopt the lengthy procedure of regular trial as provided for other offences.
This law also provides that court can confiscate the any loudspeaker or sound system used in the commission of the offence under this law.
Overall the introduction of Punjab Sound System ordinance 2015 is very good step of government. It considerably reduced the illegal use of loudspeakers after its implementation. After implementation of this law, many cases are registered against the violator which creates deterrence and reduced the violations. Government needs to implement the law with true spirit and continue with the good results. In this regard role of Police and Prosecution is very important along with Judiciary.