The Closed Valley
This inspiring book is written by Jurgen Wasim Frembgen and published in 2014. The anthropology book is about the culture and social life of Pakistan's Northern area. Northern areas of Pakistan are not only famous for beautiful valleys, grandiose mountain peaks and tourist destination but also known for unique culture and traditions. The people living in these areas are simple and tradition lovers who are mostly living very contended lives without indulging in the evils of modern day luxuries.
In Pakistan, stubborn mountain tribes still lead a largely secluded life, preserving their archaic cultural tradition. Their distinctive features are Sunni Islam, strict gender segregation, a prevalent caste system, and frequent blood feuds.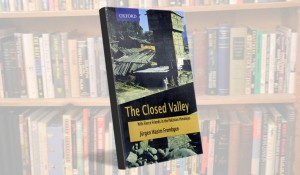 The author of this study was one of the first to venture into the valley of Harban, a world hostile to outsiders, lying in the Gilget-Baltistan region of North Pakistan. He narrates his experiences in sharing the daily life of a harsh, male-dominated society where he surprisingly discovers gentleness, poetry, and warm-hearted friendship.
About the Author
Jurgen Wasim Frembgen is Chief Curator of the Oriental Department at the museum of Ethnology in Munich, as well as professor in Islamic Studies at the University of Munich, Germany.
The Closed Valley Book Information
Author: Jurgen Wasim Frembgen
Category: Anthropology
Publishing year: 2014
Published: Oxford University Press Pakistan
Pages: 136
ISBN: 978-019-940023-2
Price: Rs 895