Tawa Chicken
As we have been following the trail of some of the most fabulous cultural fiestas and foods of this magnificent cultural capital of Pakistan, called Lahore, we bring to you yet another find that I am sure very few of us folks know. I am going to be reviewing this amazing, life-saver LARGE, delicious Tawa Chicken that Saad (my host) treated me to while we were out doing touristy stuff in Lahore trying to explore the hidden food delights in the old city. If you are in Lahore on a visit or you live here, but admittedly do not know where to find good, sumptuous BBQ delights on a road side Dhabba, ARIF CHATKHARA HOUSE is definitely one place you have to try.
Arif Chakhara-Heera Mandi, Lahore.
As we all know Lahore's Wall City is a haven for delicious food and food lovers. We decided to go have lunch at our personal favorite restaurant Arif Chatkhara which is behind the new Food Street. Their famous delicacy is of course Tawa Chicken. They also serve one of the best Masala Special Daal made up of butter, eggs and amazing daal! It's a winner in all ways! The Tawa Chicken was great. Moist and full of spices, it tasted perfect. They serve thin ultay taway ki roti with the chicken and it's a delight.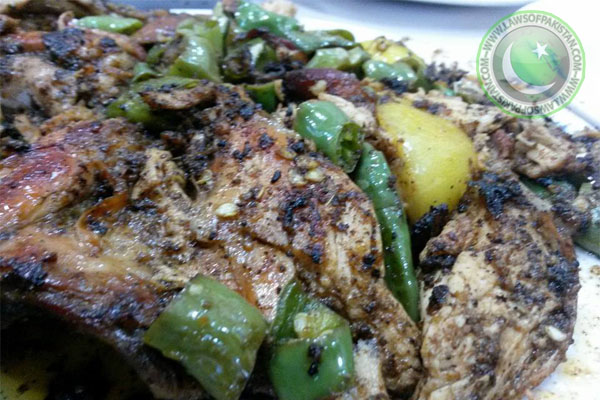 This Tawa Chicken is one of the BEST I have ever had because the chicken was marinated to perfection. The meat quality was par excellence. The bbq masala was amazing, tangy flavor which added to the whole dish and made it truly out of this world. The SIZE Needless to say, of course. This beats all the Tawa Chickens' in Lahore.
One thing that I did miss in this Tawa Chicken was the chilli sause that our desi Tawa Chicken walas put. Hmm, and well it's not a fancy restaurant, it's more like a take-away with five or six tables and chairs.
That said, I will definitely be going back to this place again and trying out the rest of the stuff on their menu. If you are in Lahore and looking for a good eating out, Arif Chatkhara is THE  place to go to.
Oh, and the woner is really friendly!! He made us feel at home, chatting up with us and ALSO served us with a really delicious complimentary Mint Tea with Cinammon Stick in it.
Tawa Chicken Recipe
Ingredents:-
*        Chicken ½ kg (tikka sized)
*        Yogurt ¼ cup
*        Red chilli powder 1 tsp
*        Black pepper power ½ tsp
*        Salt to taste
*        Oil ¼ cup
*        Onion 1 (ringed)
*        Green chillies 4-6 (slicked)
Cooking Directions
Marinade chicken with yogurt, red chili powder, black pepper powder and salt. Rest for half an hour.
Heat oil on tawa.
Transfer marinated chicken on tawa.
Cover and cook on slow flame until half chicken tender.
Now shift onion and green chilies in chicken, mix and cock again until chicken is completely done.
Fry on medium heat until it gets a brownish color.
Garnish with green chilies and serve.