Rigix Side Effects
Rigix is an effective anti-allergic medicine. Although it is very useful but there are certain drawback and side-effects of Rigix. Side effects of Rigix tablet and Rigix syrup vary from patient to patient. Side effects also vary from one age group to other age group. Here we are only mentioning few side effects of Rigix Medicine which are given in the following lines;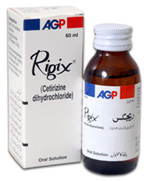 Normally a person can feel dizziness, dry mouth, dry nose and dry throat after using this drug.
Headache is also a regular side effect of rigix.
A person's stomach can be upset after using rigix in some cases.
Constipation or trouble in sleeping is also some common side effects of rigix.
Mental/mood changes like confusion and hallucinations are some serious side effects of rigix but they are rare.
Ringing in the ears, difficulty in urinating and vision changes are also some side effects of rigix.
You can read the complete article about Rigix Medicine, Tablets & Syrup, its composition, usages and price in Pakistan by clicking on the link given below.