Remotely Colonial: History and Politics in Balochistan
Remotely Colonial is another book about the Balochistan Province in Pakistan. It is written by American author Nina Swidler and published in 2014. In this book author closely examine the State of Kalat (now part of Balochistan Province), its culture, laws, traditions and all other social aspects. This work of anthropology closely examines the fabrics of this remote and closed part of Balochistan.
This book examines tribalism and nationalism as historical processes in Kalat, a native state under the British that is today incorporated in Balochistan Province, Pakistan. Since the early nineteenth century, Balochistan has been both remote and strategically important to world powers. Kalat was an atypical native state in that the ruler was marginalized in favors of sardars (chiefs) and tribal governance through Jirga (tribal court) deliberations. Although Kalat State ceased to exist in 1955, its colonial structures persist today, albeit in weakened form.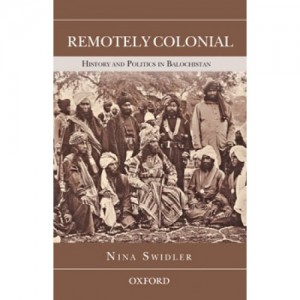 About the Author
Nina Swidler is Associate Professor Emeritus, Department of Anthropology, Fordham University New York USA.
Remotely Colonial Book Information
Title: Remotely Colonial: History and Politics in Balochistan
Author: Nina Swidler
Publisher: Oxford University Press Pakistan
Publishing Year: 2014
Category: Anthropology
Pages: 336
Price: Rs 995
ISBN: 978-0-906865-4