Panama Case Pakistan
Panama Case is one of the most popular cases in history of Pakistan. Panama Case in Pakistan is based on the leaked Panama Papers. These 11.5 million leaked documents contain the details about more than 214,488 offshore companies. These documents belonged to the Panamian law firm "Mossack Fonseca" and they were leaked in 2015.
Panama Papers revealed secret information about the ownership of offshore companies. Astonishingly there are many famous politicians, leaders, actors, businessmen and persons from all walks of life involved in this illegal ownership.
On the bases of these papers Imran Khan filed case against Prime Minister of Pakistan Nawaz Sharif in Supreme Court on the allegation of corruption, money laundering and eight offshore companies of Sharif's family. According to Panama Papers, Sharif Family own 8 offshore companies. The Panama Case was heard from 1 November 2016 to 23 February 2017, and court reserved its judgments and later on 18th April it was announced that judgment will be announced on 20th April 2017.
Panama Case hearing saw many phases and after initial hearing Prime Minister's lawyer presented a letter of Qatari Prince in the court. That Qatari letter became popular all over the country. After many dates of hearing finally the case was argued on 23 February 2017 by all parties. Panama Case is basically in the court on the petitions of Imran Khan, Sheikh Rashid and Siraj-ul-Haq. Overall Panama Case Pakistan is one of the most debated and popular cases in Pakistan's History.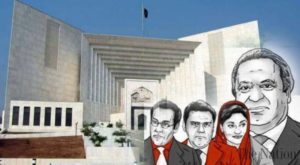 Panama Case Judgment in Pakistan
Finally a big judgment is delivered. Supreme Court judges announced that a JIT (Joint Investigation Team) will be made which will further investigate the case. Two judges in five judge bench in favor of removal of Prime Minister while three in favor of further investigation. So the score is 3-2.
Click on link below to download the complete Panama Case Judgement in PDF format.
Panama Case Final Decision
So wait is over and Supreme Court announced that it will give final verdict on Panama Case on 28 July 2017. After investigation of JIT and long arguments of both parties, finally Supreme Court is about to give historical decision. Keep in touch with us, we will upload the decision as soon as it will be announced.
So Supreme Court announced its decision in Panama Case and disqualified Prime Minister Nawaz Sharif along with Finance Minister Ishaq Dar and MNA Captain(R) Safdar. Supreme Court also ordered to file references in accountability courts. We will upload the complete judgment soon, so keep in touch with us.
Panama Case Final Judgment PDF Download
Click on the link below to download the final judgment in Panama Case against Pakistan's Prime Minister Nawaz Sharif announced on 28 July 2017.