Pakistan Budget 2017-18
Government of Pakistan presented the financial budget for year 2017-2018 in May 2017. The Federal budget of Budget Pakistan is presented by Finance Minister of ruling Pakistan Muslim League Nawaz. Finance Minister Ishaq Dar presented the Federal Pakistan Budget 2017-18 on 26 May 2017. It is also the fifth and last budget of PML (N) and also considered as important because next year will be election year.
Followings are some highlights of Pakistan Budget 2017-18;
Total outlay of Budget = Rs.4.8 Trillion
Total volume of development = Rs.1001 Billion
Target of Development for next year = 6 percent
Increase in the salary of Government Employee = 10 %
Target for loans for agriculture sector = 700 billion rupees
Minimum Salary or wages = Rs.15000
Increase in GDP = 5.3 %
Allocation for laptop scheme = Rs.20 Billion
Allocation for Benizir Income Support Program = Rs.121 Billion
Allocation for Development = Rs.1.001 Trillion
Government subsidy on Electricity = Rs.118 Billion
Loans for Agriculture farming to farmers = Rs.600 Billion
Allocation for the eradication of Load-Shedding/ Electricity Shortage = Rs.404 Billion
Trade Deficit reduction target for the next year = 4.2 % from current 8.2 %
Federal Government allocation for CPEC = Rs.180 Billion
Allocation for Western Rout of CPEC = Rs.44 Billion
Allocation for the security of economic corridor = Rs.1.8 Billion
Allocation for the construction of Islamabad High Court = Rs.500 Million
Allocation for the Multan-Sukkur Motorway Section = Rs.30 Billion
Allocation for the Hakla Yark-Dera Ismael Khan Motorway Section = Rs.38 Billion
Allocation for the Lahore-Abdul Hakeem Motorway Section = Rs.54.4 Billion
Allocation for Power Projects = Rs.25 Billion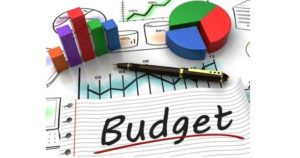 Above mentioned are few points of this budget. Keep in touch with us and soon we will upload the PDF copy of complete Federal Budget of Pakistan 2017-18.