NA 99 Gujranwala-V/ NA-99 Pakistan
NA 99 is a constituency for the seat of Pakistan's National Assembly from Gujranwala District. Gujranwala is situated in the North-East of Punjab Province and one of the largest cities of Pakistan. There are total 7 National Assembly seats of Gujranwala which are NA-95 to NA-101. Gujranwala's role in national and provincial politics is very important due to large number of seats in both National and Provincial assemblies.
Major towns of this constituency are Kamoke and Talwandi Musa Khan. National Highway N5 passes through this constituency near Kamoke.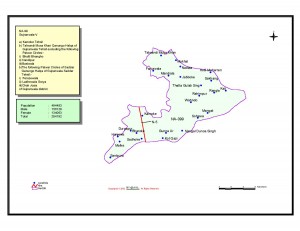 NA 99 Gujranwala-V Important Localities & Areas
Talwandi Musa Khan
Mokhal
Nadala
Ferozwala
Mandiala
Jabboki
Kotti Maharran
Sakhang
Thatta Gulab Singh
Rahimpur
Rangla
Kali
Wahndo
Mangat
Sohawa
Nangal Dunoa Singh
Kot Qazi
Gunna Ur
Kamoke
Bharoke
Sadhoke
Durgapur
Harpoke
Malke
Santpura
NA 99 Gujranwala-V Census Charges/Town Committees/Qanungo Halqas/Patwar Circles
Kamoke Tehsil
Talwandi Musa Khan Qanungo Halqa of Gujranwala Tehsil excluding some Patwar Cirlces
Following Patwar Circles of Saddar Qanungo Halqa of Gujranwala Saddar Tehsil;
Ferozewala
Ladhewala Gorya
Chak Joyia
NA 99 Gujranwala-V Population Statistics
Population-494483
Male -150129
Female-134063
Total-284192