NA 56 Rawalpindi-VII 
NA 56 is constituency for the seat of Pakistan's National Assembly. It is also known as NA 56 Rawalpindi-VII. There are total seven National Assembly seats in Rawalpindi and NA 56 is last of these seven seats from Rawalpindi District of Punjab Province.
NA-56 is also known for defeat of Hanif Abbasi against Imran Khan in 2013 General Elections. In 2002, Shaikh Rasheed Ahmad won the seat from this constituency as an Independent candidate. He also won another seat so he vacated this seat and Muhammad Hanif Abbasi won the by-election on MMA ticket same year. In 2008 General Elections, Hanif Abbasi won the seat as PML-N Candidate. In 2013 General Election, PTI Chairman Imran Khan defeated Hanfi Abbasi of PML-N. Hanif Abbasi declared himself winner before the polls but soundly defeated by Imran Khan in this election.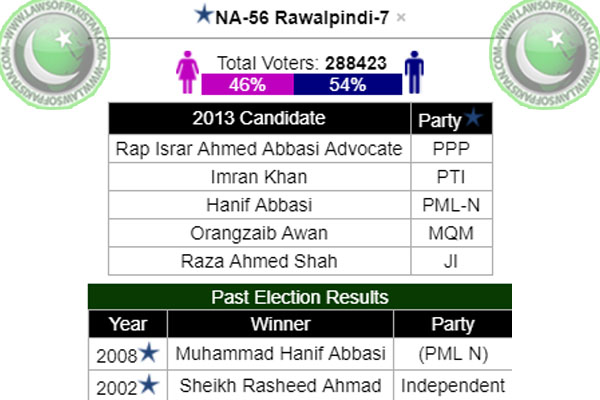 2002 Election Winner: Shaikh Rasheed Ahmad (Independent)
2002 by-Election Winner: Hanif Abbasi (MMA)
2008 Election Winner: Hanif Abbasi (PML-N)
2013 Election Winner: Imran Khan (PTI)
Area of this constituency is comparatively large as compared with other adjoining constituencies. The areas/localities of this constituency includes following charges of Rawalpindi Cantt and Rawalpindi City;
Charge No.1
Charge No.2
Charge No.4
Charge No.5
Charge No.6
Charge No.7
Charge No.11
Population Statistics
Population-457495
Male -124434
Female-107545
Total-231979