NA 49 Islamabad-II / NA-49 Pakistan
NA 49 is a constituency for the seat of Pakistan's National Assembly from Islamabad. Islamabad is the Capital of country and sends two representatives of National Assembly.  Islamabad is not among the most populous and largest cities of Pakistan and hence only has 2 seats in National Assembly i.e. NA 49 Islamabad-I and NA-49 Islamabad-II.
This constituency includes the residential areas of Islamabad City and adjoining localities.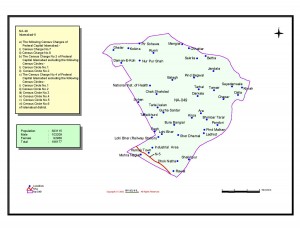 NA 49 Islamabad-II Important Localities & Areas
Dhalar
Kokina
Pir Sohawa
Rumli
Mangial
Chhattar
Sakrila
Betha
Jandala
Pind Begwal
Balagh
National Institute of Health
Daman E Koh
Sohan
Chak Shahdad
Balagh
Tarhal
Pind Begwal
Tamair
Sayedanwala
Kijnah
Dallah
Chapar
Darkala
Tarhal
Tariai Kalan
Sohan
Talaikhurd
Gurha Sardar
Bura Bangial
Pagh
Lohi Bher
Sher Dhamal
Ladhiot
Pind Malkan
Pandori
Bhjmbar Tarar
Ara
Chapar
Indistrial Area
Humak Town
Mohra Naglal
Dhok Natha
Rawat
Sheikpur
Lohi Bher
NA 49 Islamabad-I Town Committees/ Municipal Committees/ Qanungo Halqas/ Tehsils/ Patwar Circles
Following Census Charges of Federal Capital Islamabad;
Census Charge No.7
Census Charge No.8
Following Census Charge No.3 of Federa Capital Islamabad excluding some Census Circless
Census Charge No.4 of Federal Capital Islamabad excluding following Census Circles;
Census Circle No.1
Census Circle No.2
Census Circle No.3
Census Circle No.4
Census Circle No.5
Census Circle No.6
Population Statistics of NA-49 Islamabad-II
Population-383115
Male -103209
Female-92968
Total-196177