NA 148 Multan-I 
NA 148 is a constituency for the seat of Pakistan's National Assembly from Multan District. Multan District is very important in Southern Punjab politics and there are total 6 National Assembly Seats of Multan. NA 148 is also known as NA-148 Multan-I and it is the first of total 6 seats from District Multan of Punjab Province.
Important localities of this constituency are Qadirpurr Ran, Luthal, Islampure, Dograna, Jalalabad, Makhdoom Rashid, Biliwala, Gulzarpure, Chak 2MR, Chak 8MR, Chak 10MR and Chak 18MR. This constituency is among the largest constituencies of Multan City.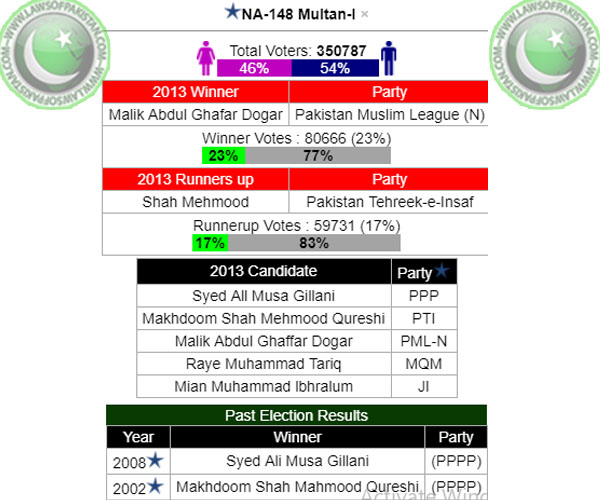 The Politics of NA-148 revolves around senior politician Makhdoom Shah Mahmood Qureshi. In 2002 General Elections, Shah Mehmood Qureshi won the seat as PPP Candidate. In 2008 General Election, Shah Mehmood Qureshi won the seat again as PPP Candidate. Later on PPP's Ali Musa Gillani became MNA from this seat in by-election. 2013 General Elections was set back for Shah Mehmood Qureshi because he lost his home seat to Malik Abdul Ghafar Dogar of PML-N. This time Shah Mehmood Qureshi was contesting on PTI's Ticket.
| | | |
| --- | --- | --- |
| Election Year | Winner Name | Party |
| 2002 | Shah Mahmood Qureshi | PPP |
| 2008 | Shah Mahmood Qureshi | PPP |
| 2013 | Malik Abdul Ghafar Dogar | PML-N |
Population Statistics of NA 148
Population-521416
Male -150176
Female-133850
Total-284026
NA 148 Multan-I mainly consists of following areas/localities;
Qadirpur Ran Town Committtee
Makhdoom Rasheed Town Committee
Multan Shehr Qanungo Halqa
Jall
Tatepure
Makhdoom Rashid
Patwar Circles of Qadirpur Ran
Billiwala
Kotla Rahim Ali
Patwar Circle of Mzaffarabad Qanungo Halqa