NA 127 Lahore
NA 127 is constituency for the seat of Pakistan's National Assembly. It is also known as NA 127 Lahore-X and tenth of total 13 National Assembly seats from District Lahore of Punjab Province. The area of constituency includes outskirts of Lahore City and relatively small as compared with other constituencies of Lahore City. Major areas includes  Liaqatabad, Model Town Ext (Q, R and S blocks), Pindi Rajputan, Ismail Nagar, Kot Lakhpat, Chungi Amar Sadhu, Teharta Pind, Bagrian, Green Town, Township, Maryam Colony, Sitara Colony and Farid Colony.
This constituency is popular due to presence of Dr. Tahir ul Qadri's followers. In 2002 General Elections, Tahir ul Qadri won the seat. In 2008 Elections, Ch. Nissar Bhutta of PML-N won the seat. In 2013 General Elections, Waleed Khan of PML-N won the seat and became the member of Pakistan's National Assembly.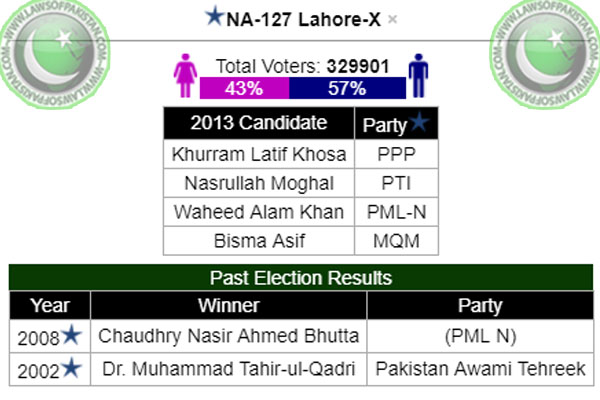 2002 General Elections Winner: Dr. Tahir ul Qadri (PAT)
2008 General Elections Winner: Chaudhary Nissar Ahmad Bhutta (PML-N)
2013 General Elections Winner: Waleed Alam Khan (PML-N)
Total population of NA 127 is 471680 with 129892 males and 107246 females.
NA 127 consists of total 3 charges of Lahore Municipal Corporation City District Lahore as given below;
Charge No.36
Charge No.37
Charge No.38
It also includes "Ichhrah Qanungo Halqa of City District Lahore.