NA 124 Lahore Pakistan
NA 124 is constituency for the seat of Pakistan's National Assembly. It is also known as NA 124 Lahore-VII and seventh of total 13 National Assembly seats from District Lahore of Punjab Province. The area of constituency includes outskirts of Lahore City and some central parts.
Other areas of constituency include Droghwala, Shadi Pura, Hameed Pura, Fateh Garh, Angori Bagh, Mughalpura, Mustafa Abad and Ghazi Abad etc. In General Elections 2002, PPP's Aitzaz Ahsan won the seat from this constituency. In 2008 General Elections, Shaikh Rohale Asghar of PML-N won the seat. In 2013 General Election, again Shaikh Rohale Ashar of PML-N won the seat. He defeated PPP's Bushra Aitzaz and PTI's Waleed Iqbal.
2002 General Elections Winner: Aitzaz Ahsan
2008 General Elections Winner:  Sheikh Rohail Asghar
2013 General Elections Winner:  Sheikh Rohail Asghar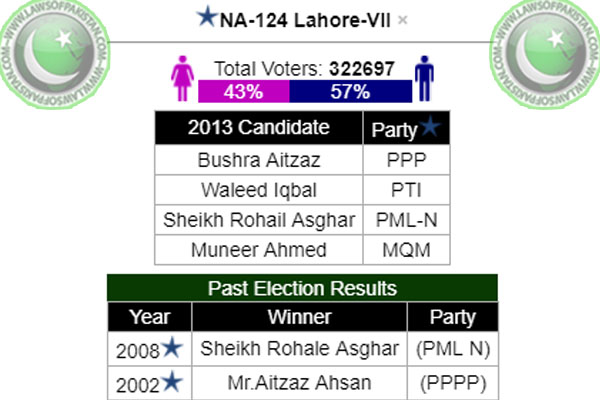 Total population of NA 124 is 467765 with 137731 males and 118028 females.
NA 124 consists of total 6 charges of Lahore Municipal Corporation City District Lahore as given below;
Charge No.25
Charge No.26
Charge No.27
Charge No.29
Charge No.30
Charge No.32