NA 121 Lahore Pakistan
NA 121 is constituency for the seat of Pakistan's National Assembly. It is also known as NA-121 Lahore-IV and fourth of total 13 National Assembly seats from District Lahore of Punjab Province. The area of constituency includes localities of "Kot Begum" and "Sanda" near National Highway and Ravi River.
The constituency is full of PML-N Voters. In 2013 General Elections, Mehar Ishtiaq Ahmad of PML-N won the seat and defeated his rival Muhammad Hammad Azhar of PTI. In 2008 General Elections, Mian Margoob Ahmad of PML-N won the seat. In 2002 General Elections, Farid Ahmed Paracha of MMA ( Mutahida Majlis Amal) won the seat. MMA candidate won the seat as elections were conducted under the rule of Pervaiz Musharraf.
2013 Election Winner: Mehar Ishtiaq Ahmed (PML-N)
2008 Election Winner: Mian Margoob Ahmed (PML-N)
2002 Election Winner: Farid Ahmed Paracha (MMA)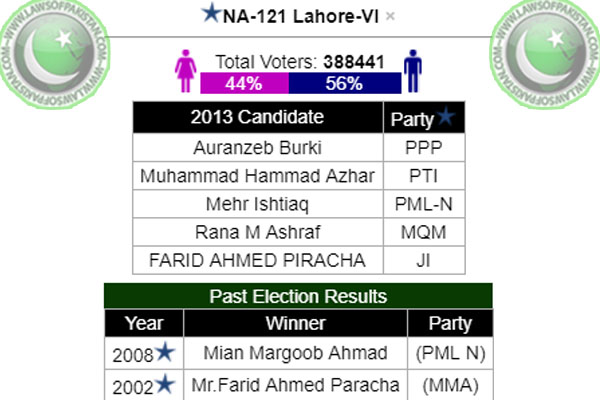 Total population of NA 121 is 508755 with 139619 males and 116987 females.
NA 121 consists of total 5 charges of Lahore Municipal Corporation City District Lahore as given below;
Charge No.54
Charge No.55
Charge No.56
Charge No.57
Charge No.58