NA 118 Pakistan/ NA 118 Lahore-I
NA 118 is constituency for the seat of National Assembly of Pakistan. It is also known as NA 118 Lahore-1and first of total 13 seats for National Assembly from Lahore district. It mainly constitutes the area of 'Shahdara' near Ravi River. Normally the constituency is considered as stronghold of Pakistan Muslim League (N). In previous two elections i.e. 2013 & 2008 PML-N candidate Muhammad Riaz won the elections comfortably.
In Election 2013, Muhammad Riaz of PML-N won with whooping 103,346 while runner up of Pakistan Tehreek Insaf PTI Hamid Zaman took 43000 votes. Later on PTI challenged the results of this constituency in the court.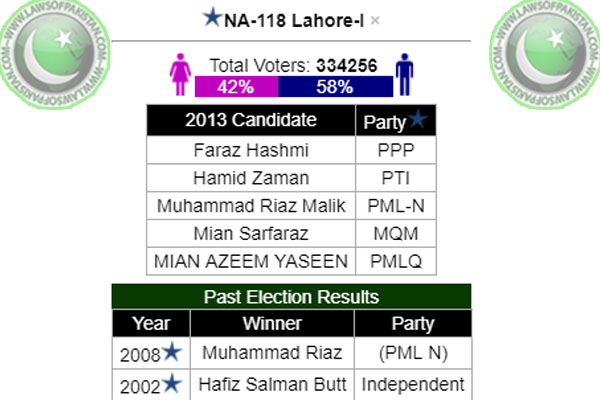 NA 118 Election 2013
NA 118 2008 Election
Muhammad Riaz (PML-N) Winner
NA 118 2002 Election
Saqib Nawaz Sarwani ( Independent Candidate)
Total population of NA 118 is 475624 which include 131498 males and 112216 females. The following census charges of Lahore M.C. Municipal Corporation are included in this NA 118;
Charge No.1
Charge No.2
Charge No.3
Charge No.4
Charge No.5