What is Addiction?
Addiction is the repeated involvement with a substance or activity, despite the substantial harm it now causes, because that involvement was (and may continue to be) pleasurable.
Addiction is a disease in which a person finds themselves unable to stop using a substance or engaging in a behavior.
What is Mobile Phone Addiction?
Mobile Phone Addiction is a disorder involving compulsive overuse of the mobile devices, usually quantified as the number of times users access their devices or the total amount of time they are online over a specified period. It is recent phenomenon and it is dangerous like other addiction i.e. drug addiction etc.
While a smartphone, tablet, or computer can be a hugely productive tool, compulsive use of these devices can interfere with work and relationships. When you spend more time on social media or playing games than you does interacting with real people or you can't stop yourself from repeatedly checking texts, emails or apps even it has negative consequences in your life.
Some Interesting Facts about Mobile Phone Addiction
Apple sold 3,40,000 IPhones per day [in 2012].
Mobile Phone have 18 times more Bacteria than Toilet Handles.
In Japan,90% of Mobile Phones are waterproof because youngsters use them even in the shower.
Mobile Phone radiation can cause Insomnia, Headaches, and Confusion.
The Half of Smartphone owners use the phone while driving.
Check yourself if you have mobile phone addiction?
It is an easy way to check if you fall in the category of mobile phone addiction. If you are addicted to your phone, then you must have following characteristics:
Constantly checking
Feeling anxious
Constantly use phone when you have no new notification
Talking on phone more than actual one
Use phones during lectures
Vision problems
Sleep disturbances/ loss of sleep
Nomophobia
Nomophobia
Nomophobia is the irrational fear of being without your mobile phone or being unable to use your phone for some reason, such as the absence of a signal or running out of minutes or battery power.
In state of nomophobia, a person feeling anxious or feels a fear to live without his cell phone which seems like impossible to him because he is addicted to his cell phone.
Negative Effects of Mobile Phone Addiction for relationships
Addiction to social networking, dating apps, texting and messaging can extend to the point where virtual, online friends become more important than real-life relationships. We have all seen the couples or families sitting together in a restaurant ignoring each other and engaging with their smartphones instead. Mobile Phone addiction is really harmful for your personal relations with your near and dear ones.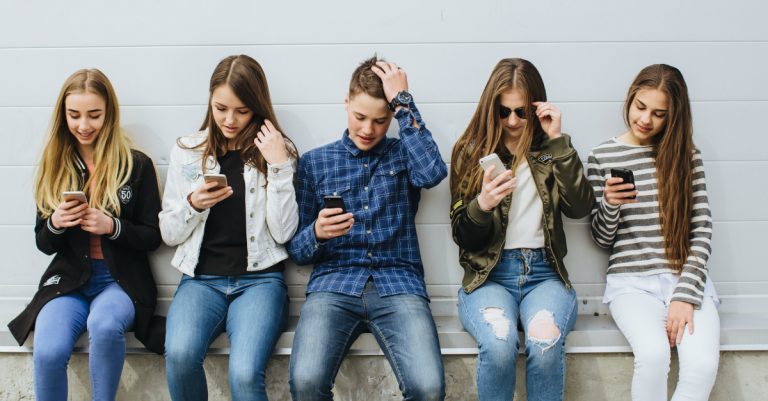 Negative Effects of Mobile Phone Addiction of Work Capacity
Compulsive web surfing, watching videos, playing games can lead to lower productivity at work or school/college/university and isolate you for hours at a time. Compulsive use of internet and smartphones apps can cause you to neglect other aspects of your life. In nutshell it decrease your productivity and work capacity because when you became mobile addict you fail to concentrate on your work for longer period of time.
Negative Effects of Mobile Phone Addiction for Students
Mobile Phone addiction has devastating effects on students. Followings are some important and major negative impacts of mobile phones on the students.
Research has shown that since smartphones have arrived there have been a bigger percentage of children failing because of smartphones.
Smartphones make it difficult for one to get information and pay attention in class.
People use their smartphones all day instead of studying and doing their work.
''Polluting Classrooms with Disruptions''
Means constant texting and receiving messages not only disrupts lecture but also interrupts the whole class.
According to some research, an average student spends huge time on mobile phone.
94.6 minutes a day texting.
38.6 minutes on social networks.
26.9 minutes listening to music.
Women average 10 hours a day on their phones.
Men average 8 hours a day on their phones.
Negative Effects of Mobile Phone Addiction for Teens
There is decreased brain connectivity in teens who suffer from a cell phone addiction.
Problems in the part of the Brain that is responsible for decision – making , impulse-control, and emotional regulation .
Teens with a smartphone addiction are more likely to have poor diets.
Teens may experience social isolation due to excessive cell phone use.
What happened when someone lost his mobile phone?
According to a survey, people react differently when they lost their mobile phones. An overwhelming majority (73%) panicked when they lost their mobile phones. 14 % people become desperate when they lost their cell phone. Interestingly 7 % people got sick if they lost their cell phone. The Survey shows that only 6% people relieved when they lost their cell phone.
How to get rid from the Mobile Phone Addiction
We are suggested the solutions for people who are addicted to their cell phones:
Your phone is beeping, be strong, don't answer.
Accept that you are addicted
No texting while driving
No phone in the bathroom
When you are with your friends, family or in a meeting turn off your phone
Try leaving the phone at home
No constantly phone using while study
Make a schedule for using a smartphone or set a timetable that how much maximum time you use internet or cell phone
Forbid the using cell phones during your meals
Take a schedule of home life
Try to living without your cell phone and imagine that if you have no mobile phone then how do you spend your life
Spend more time with family
Conclusion
In today's worlds, with technological advancements, mobile phones have metamorphosed into an ill in one gadget. A gadget that plays music , takes high resolution pictures , offers services to access internet instantly, and many more .
For young ones, mobile phones helped them to socialize but excessive use of mobile phone is very dangerous and one can addict to his cell phone . He find himself unable to stop using that substances or activity. People should only use their cell phones according to their needs.
Note: Author of this Article is Qudsia Batool. She is student of Law in Islamia University of Bahawalpur.