Masala Beans Recipe
First heat oil in a wok and then fry onion till their color become golden.
Add ginger/garlic and tomatoes and cook for few minutes. After that add red chillies, coriander, cumin and turmeric and fry for 2 minutes.
Add yougurt, green chillies, white and red beans and salt.
Add hot spices, nutmeg and maze and fresh coriander, mix and dish out.
Garnish with lettuce leaves and serve.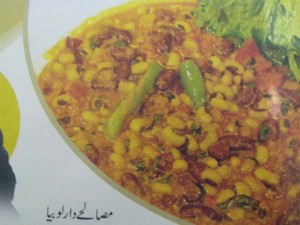 Masala Beans Ingredients
White Beans (boiled)             1 cup
Red beans (boiled)            1 cup
Ginger/garlic paste             1tbsp
Onion (finely cut)             1
Tomatoes (boiled and chopped)     3
Red Chillie powder           1
Coriander powder            1
Turmeric powder             1
Cumins powder                1
Green Chillies (chopped)             3
Fresh Coriander (chopped)         ¼ bunch
Yogurt (whipped)                           125 grams
Hot Spices Powder                         ½ tsp
Nutmeg and Maze powder           ½ tsp
Salt                     to taste
Oil                     ¼ cup
Lettuce leaves                 to garnishing