"Haldi" also known as turmeric is a widely available spice in our kitchen cabinets and is used in almost all recipes. We use it to add flavor to food but most of us are unaware of its amazing benefits. It does wonders for human health and is a miraculous spice that also serves as a treatment of a wide range of diseases. The remarkable advantages of turmeric are due to the presence of curcuminoids (curcumin and related substances). Among them the most important and widely studied ingredient is curcumin.
Curcuma longa species of plants produce curcumin which is a bright yellow chemical compound. It plays a key role to help the body fight against various inflammatory diseases and metabolic syndrome. And also help to manage muscle soreness.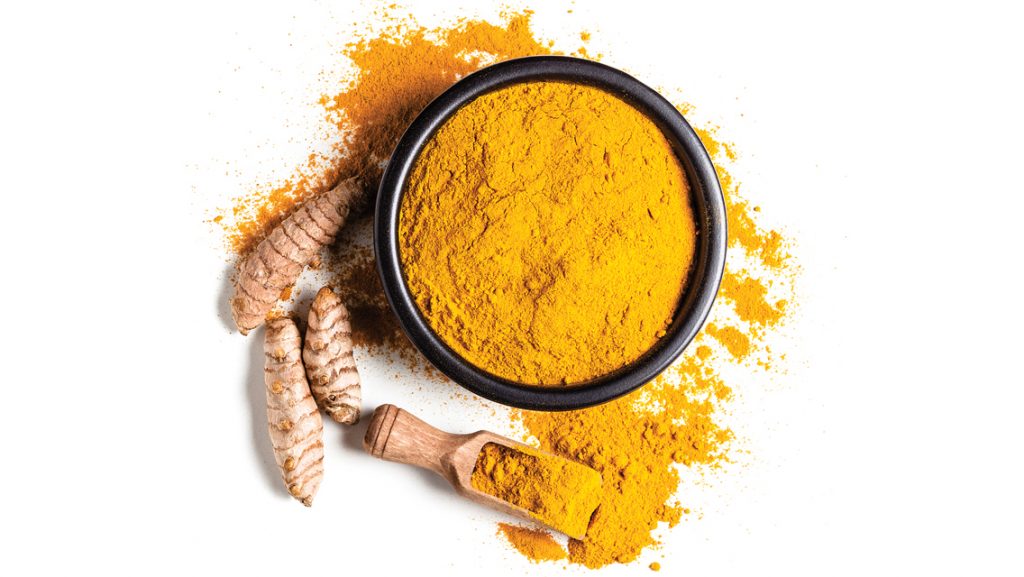 Anti-inflammatory properties of turmeric:
Turmeric play's anti-inflammatory role in the body by blocking the activity of cyclooxygenase and lipoxygenase which are responsible for the production of inflammatory mediators prostaglandins and leukotrienes.
Curcumin influences macrophages, neutrophils, and T cells, by regulating the production of cytokines and chemokines. Which helps in the prevention of inflammation
Curcumin neutralizes free radical and reactive oxygen species and hence acts as a potent antioxidant, thereby playing a role in reducing oxidative stress. By combating oxidative stress, turmeric helps alleviate inflammation.
It affects various inflammation pathways such as the mitogen-activated protein kinase (MAPK) pathway and reduces inflammation
 Turmeric's Role as Antioxidant: 
Turmeric is packed with antioxidants, enabling it to neutralize harmful free radicals. Free radicals are highly reactive molecules that can cause oxidative damage to cells and DNA
The body's own antioxidant defense system activity is enhanced by turmeric. It stimulates the production of enzymes, superoxide dismutase (SOD), catalase, and glutathione peroxidase, which are responsible for neutralizing free radicals and reducing oxidative stress.
Oxidative stress can lead to lipid peroxidation, a process in which free radicals attack and damage lipid molecules in cell membranes. Curcumin has been shown to inhibit lipid peroxidation, protecting cellular membranes from oxidative damage and maintaining their integrity.
Turmeric binds with metal ions and prevents the generation of reactive oxygen species
Role of turmeric in cancer prevention:
It plays an important role in cancer prevention by contributing to the death of cancerous cells, reducing angiogenesis, and metastasis
It also helps to protect DNA from damage by carcinogens and it helps the DNA to maintain its integrity and help reduce the risk of genetic mutation.
Curcumin has been found to inhibit enzymes such as matrix metalloproteinases (MMPs), which play a role in tumor invasion and metastasis.
TURMERIC has been found to inhibit angiogenesis, which is the process of new blood vessel formation that is necessary for tumor growth and metastasis.
Role of Turmeric in Digestive Health
Turmeric stimulates the gall bladder to secrete bile. adequate bile production help in fat digestion and dietary fats
Turmeric has been found to increase the secretion of digestive enzymes, such as pancreatic lipase, amylase, and protease. These enzymes help break down fats, carbohydrates, and proteins and hence play an important role in digestion and absorption.
Turmeric possesses carminative properties, meaning it helps alleviate symptoms of bloating, gas, and indigestion.
Turmeric improves gut microbiota, the diverse community of microorganisms residing in the digestive system.
Role of turmeric in arthritis relief:
Turmeric is a naturally gifted analgesic. It helps to reduce joint pain associated with arthritis. It blocks the pain signal and provides relief from the discomforting pain
Cartilage is the cushion-like structure present between joints. They damage because of increased friction between joints. Turmeric protects cartilage from degeneration
In certain types of arthritis, such as rheumatoid arthritis, the immune system mistakenly attacks the joints, leading to inflammation and damage. Turmeric can help modulate immune responses and regulate immune cell activity.
Oxidative stress, characterized by an imbalance between free radicals and antioxidants in the body, can contribute to joint inflammation and damage in arthritis. Turmeric's potent antioxidant properties, primarily due to curcumin, help neutralize free radicals and reduce oxidative stress.
 Role of Turmeric in Boosting immune health:
Curcumin can modulate or regulate immune responses and hence exhibit immune modulatory properties
It enhances the activity of immune cells
Stimulate the activity of natural killer cells and macrophages which plays an important role to identify and eliminate a certain pathogen
Turmeric has anti-microbial activity and hence it reduced the burden on the immune system
It protects the immune cells from oxidative damage by neutralizing the free radicals
Turmeric as a neuroprotective agent:
The brain-derived neurotrophic factor is responsible for promoting the life of neurons. They play an important role in memory and learning. Many brain diseases are due to decreased levels of brain-derived neurotrophic. Curcumin increases the level of brain-derived neurotrophic factor and hence promotes brain health.
Role of turmeric in boosting brain health:
High level of cholesterol leads to plaque formation in arteries. Turmeric decreases cholesterol by reducing the level of LDL, hence playing a cardio-protective role in the body.
It helps to prevent the formation of blood clots. It has an antithrombotic effect which helps to prevent heart attacks and strokes
It also improves endothelial functioning. The endothelium is the inner lining of blood vessels. Its proper functioning is very important for adequate blood flow.
Turmeric as an anti-aging agent:
Promotes the production of collagen which is a protein that supports skin and maintains its elasticity
Turmeric helps to reduce hyperpigmentation and dark spots
It inhibits the production of melanin and helps to give even skin tone
Turmeric's antioxidant and anti-inflammatory effects help protect the skin from UV-induced damage and oxidative stress.
Role of turmeric as an anti-depressant:
modulate neurotransmitters such as serotonin and dopamine, which are involved in regulating mood.
turmeric exhibits neuroprotective properties, protecting brain cells from damage and promoting their survival
depression has been linked to increased inflammation and oxidative stress in the body. turmeric's potent anti-inflammatory and antioxidant properties, primarily due to curcumin, help reduce inflammation and oxidative damage.
RDA of turmeric:
500-2000 mg /day
Note: The Article is written by Miss Mahrukh Maqbool who is an expert in the field of Food and Nutrition.