General Qamar Javed Bajwa
Prime Minister of Pakistan Nawaz Sharif appointed General Qamar Javed Bajwa as the 16th Chief of Army Staff of the Pakistan Army on 26 November 2016. He was at No.4 in the seniority list and General Zubair Hayat was considered as the favorite candidate but Prime Minster preferred Qamar javeed over all others. General Qamar Javed Bajwa belongs to Infantry Baloch Regiment. Previously three other Army Chiefs, General Aslam Baig, General Ashfaq Pervaiz Kyani and General Yahya Khan were also from Baloch Infantry Regiment.
Qamar Bajwa is from 62nd MPA Long Course and when he was promoted to Lt. Colonel he served as General Staff Officer in 10th Corps which is also the largest Corps of Pakistan Army and popularly known as the Rawalpindi Corps.  After he was promoted as Brigadier he served as Chief of Staff at 10th Corps and also served in Northern Areas and Kashmir. General Qamar Javed Bajwa also served on United Nations Peacekeeping mission in Congo. In 2009 he was promoted as Major General and served as commander of Gilgit Baltistan. In 2013 he was promoted to the rank of Lieutenant General and given charge of 10th Corps. In 2015 he was appointed as Inspector General of the Training and Evaluation at the GHQ.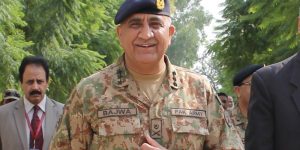 Before his selection as Army Chief he also served as the Principle Staff Officer to the Army Chief General Raheel Sharif. In August 2011 he was awarded the Hilal-i-Imtiaz due to his professional services in Pakistan Army. General Qamar Javed Bajwa served many years during his service in Kashmir and Northern Areas and hence has valuable experience of issues regarding these areas. According to some sources outgoing Chief General Raheel Sharif recommended him during his one-on-one meeting with Prime Minister.
Pakistan is facing many problems now days like Kashmir issue, terrorism and Indian aggression of LOC which means many challenges are waiting to test the abilities of new Army Chief. Outgoing Army Chief done well during his tenure on many issues and considered as one of the most respectable and successful Army Chiefs in the history of Pakistan. It makes the job tougher for General Qamar Javed Bajwa because everyone is expecting nothing less than General Raheel Sharif.