Corruption in Pakistan Bureaucracy: The speakers at a roundtable have blamed the extended role of bureaucracy for corruption in the country and urged that Pakistan needs stronger public accountability and independent judicial system to ensure transparency for the promotion of business and commerce.
The roundtable 'Bribery and Corruption: A major cause of poor economic performance' was jointly organised by Centre for International Private Enterprises (CIPE), the Association of Chartered Certified Accountants (ACCA) and Islamabad Chamber of Commerce & Industry (ICCI) here on Wednesday.
The speakers demanded the formation of an impartial body which could act independently to put a check on corruption in the country. They said that over legislation was major cause of corruption as it provided the officials with mechanism to control the private sector. However, the business community considered 'Red Tapism' as the most tedious challenge in Pakistan, they said.
MNA Khurram Dastagir Khan and Chairman Standing Committee on Commerce said that corruption was the mo ral hazard and not only the business sector but the ordinary citizens were the victims of corrupt practices by a few individuals.
"I support the business community to take an initiative to reduce corruption," he said adding that the whole nation was becoming hostage to a few individuals who had the powers to clear the documents and grant permissions.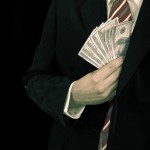 Mr Khan said that corruption happened when government tried to intervene in the pricing mechanism and stressed on absolute transparency removing quota systems and massive deregulation to reduce the chances of corruption. "The business community must help the parliamentarians in their initiatives to rein in corrupt practices in the country," he added.
Arif Masud Mirza, Head of ACCA Pakistan said that one should play a role of a whistleblower against corruption and stressed that corruption could be reduced through fair competition and following individual ethics.
"There has to be a deep-rooted commitment at all levels to curb rising corruption," the ACCA head said.
The speakers said that long-term ap proach was necessary to curb corruption in the country, as it could be contained slowly and gradually, while it was stressed that the government should take the first step by acting as a role model.
Mahfooz Elahi, President ICCI, said corruption was a menace that had badly damaged the economy and image of Pakistan in the world. "Pakistan needs an impartial body of stakeholders and media should be engaged in creating awareness against bribery and corruption to save the society as a whole from its bad effects," Mr Elahi said.
Marvi Memon, MNA, PML-Q said that corruption had to be addressed at the top level and urged that the government, stakeholders, media, judiciary, parliamentarians and business community should develop close collaboration to fight against this menace.
Moin Fidda, Country Director CIPE proposed that private sector must demand honest people in Federal Public Service Commission (FPSC) and provincial public service commissions which should recruit the officials on merit and taxpayers' money should not be wasted in corrupt activities. Corruption in Pakistan bureaucracy is increasing with rapid pace.Source