Chymoral Forte
Basic purpose of Chymoral Forte is to fasten the healing process and reduce the pain of wound. This anti-inflammatory enzyme is prepared by AGP Pharmaceuticals in Pakistan drug market. Chymoral Forte is available in only one presentation in local drug market.
Generic
Trypsin, Chymotrypsin
Therapeutic Class
Anti-inflammatory enzyme
Composition
Each enteric-coated tablet of Chymoral Fort contains trypsin and chymo-trypsin in ratio of approximately 6 to 1 and provides enzyme activity equivalent to 100,000 units.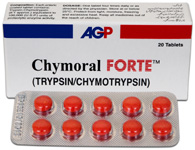 Description
Chymoral Forte contains proteolytic anti-inflammatory enzymes, which is used to resolve inflammation, reduce oedema and hasten healing of wound. The pain produced by inflammation is reduced as the inflammation subsides.After trauma and muscle and soft tissue injury Chymoral Forte reduces the recovery time and reduces pain early in the healing phase.
Indications
 Pelvic inflammatory diseases
Sprains
Fractures
Accidental injuries
Dosage
1 tablet 4 times daily half an hour before meals.
Presentations
Tabs 20's
Chymoral Forte Tablet Usages
It is used in swelling especially caused by inflammation (swelling of tooth or gums).
It is used in treatment of hematomas.
It is used in after-surgical trauma.
It is also used in chronic respiratory disease.
It is also used to treat different types of muscle and joint swelling.
Chymoral Forte in Pregnancy
Chymoral Forte is not recommended for pregnant women. It should only be used in pregnancy when the risk is high. Although there is no data on whether it passes into breast milk but it is recommended to avoid breastfeeding while using this drug.
Chymoral Forte Side Effects
Side effects of this tablet vary from patients to patients but followings are some common side effects of this medicine;
Vomiting
Abdominal pain
Bloating of blood in urine
Allergy
Side effects occur very rarely
Nausea
Allergic reaction includes skin rash, itching, redness, swelling of face, swelling of tongue, swelling of throat