Overview of Changan Alsvin 2022
Changan, China's fourth-biggest automotive group, has unveiled the Changan Alsvin in Pakistan, the company's first passenger car commonly known as Changan Alsvin Pakistan. Their local partner, Master Motors Limited, offers three variations of the Changan sedan: 1.37L Comfort, 1.5L Comfort, and 1.5L Lumiere. Alsvin is backed by a three-year/100,000-kilometer warranty, whichever occurs first. With its promising features and affordable pricing structure, the automobile is here to compete with Pakistan's current sedans and hatchbacks.
Changan Alsvin Pakistan Exterior
The new Alsvin 2022's external design distinguishes it from its competition. Its front features a butterfly grille, which provides a larger exposed area for increased air intake and heat transfer per second. The automobile has a dual waist design, which the firm claims results in aerodynamic streamlining motion and reduced fuel usage.
The grille is complemented with dual-beam halogen projection headlights that are electrically adjustable from inside the vehicle. Additionally, Alsvin has customizable LED curve daytime running lights (DRLs). The tail lamps are a two-piece design that incorporates a reverse lamp and fog lights.
Changan Alsvin's antenna is a piano black shark fin for improved reception. Additionally, the Lumiere variation has an electronic sunroof that allows more light into the vehicle.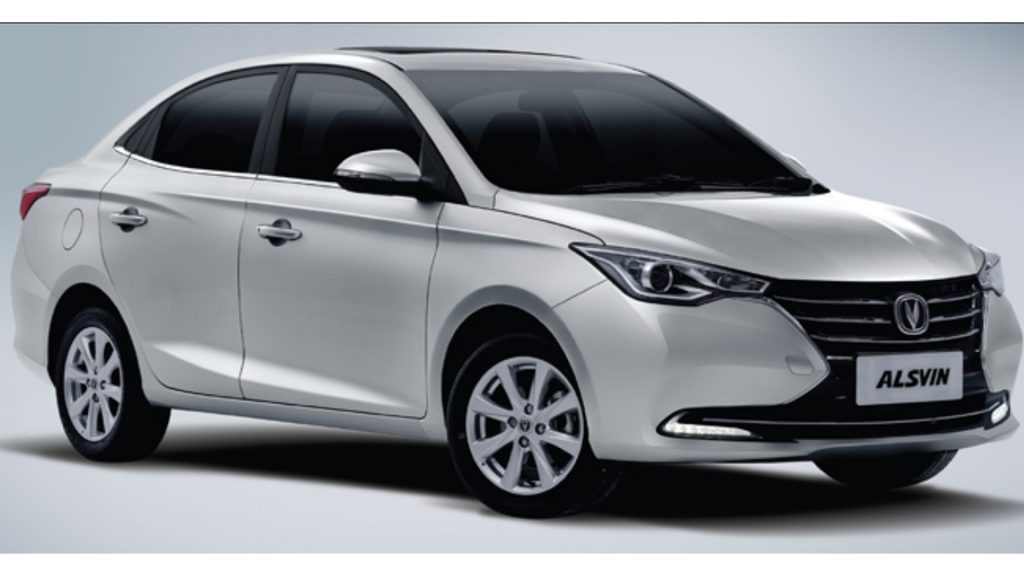 Interior of Alsvin
The inside of Changan Alsvin 2022 is exquisite, featuring ivory beige imitation leather seats. The automobile is roomy and easily seats four people. The cabin is given a contemporary aspect by the stylish and sporty cockpit. The D-shaped steering wheel provides more legroom for the driver. In all three models, the super electronic power steering includes audio controls, whereas the Lumiere just has cruise control buttons.
The Changan Alsvin is equipped with a number of advanced safety features, including twin airbags, rear parking sensors, a rearview camera, and an anti-lock braking system (ABS). Additionally, Lumiere has heated side mirrors and a tire pressure monitoring system for improved visibility (TPMS).
In all three variations, a 7-inch floating display with Human Machine Interface (HMI). The human-machine interface (HMI) is a system that enables users to modify and personalize the vehicle's daytime running lights, turn signals, welcome lighting, auto-door lock, air conditioning ventilation, and self-drying air conditioning. Additionally, the screen gives entertainment possibilities. Four speakers, one on each door, provide a high-quality audio experience. Additionally, the Alsvin has one USB connector and a 12V power outlet.
Alsvin 2022 has automatic start/stop and keyless entry. Its large trunk may be opened both manually and electronically.
Engine Alsvin
The 1.37-litre Alsvin Comfort is powered by a 1370cc engine producing 99 horsepower and 135 Nm of torque. On the other hand, the 1.5-liter Alsvin Comfort and Lumiere models include a 1480cc engine that produces 105 horsepower and 145 Nm of torque. All models have Euro-5-compliant, in-line 4-cylinder Daihatsu Valve Variable Timing (DVVT) engines.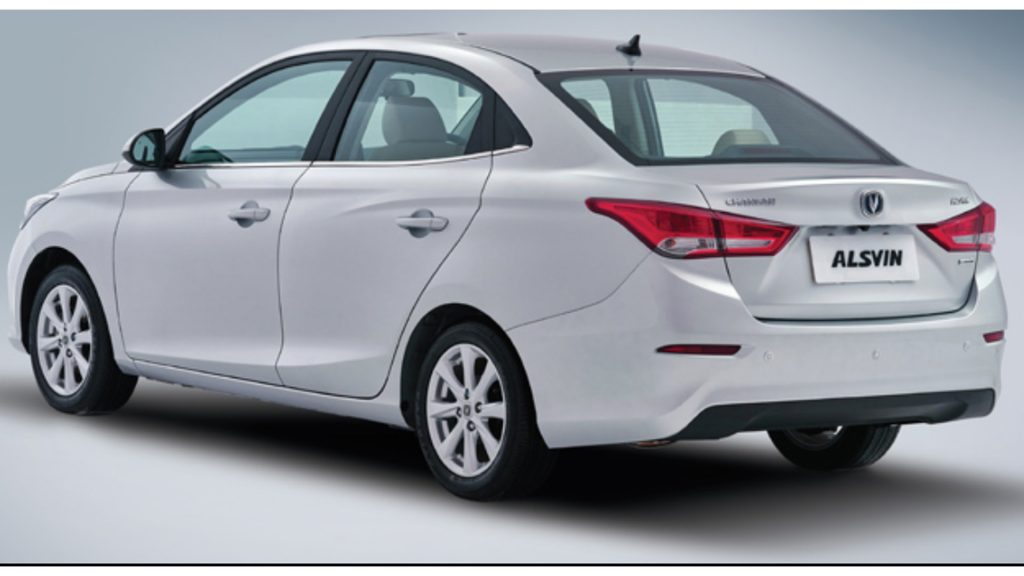 Alsvin Mileage
Changan Alsvin 2022 has an outstanding average mileage of 12 to 15 kilometers per liter. It achieves a fuel efficiency of 12 km per liter in the city and 15-16 km per liter on the highway.
Alsvin Upkeep
Due to the fact that Changan is a relatively new manufacturer in Pakistan, it is difficult to locate car components for Alsvin. As a result, Alsvin's maintenance is not trivial.
Alsvin Transportation & Handling
For a comfortable ride, the new Changan Alsvin is equipped with an anti-lock braking system and cruise control. The automobile has a 2535 mm wheelbase and a 151 mm ground clearance, which contributes to its stability and decreases body roll. Its sumptuous cabin and sophisticated amenities provide a luxury experience whether you're driving around the city or out on the highway at high speeds.
Changan Alsvin Rivals
Changan Alsvin competes in Pakistan's market with the Toyota Yaris, Honda City, and KIA Picanto.
Toyota Yaris is a significant competition for Alsvin 2022 since it is priced similarly and has comparable features. Toyota also has a devoted client base in Pakistan, which makes new automobiles difficult to market. While Alsvin outperforms Yaris in terms of contemporary amenities like as steering wheel controls, temperature control, back camera, and rear speakers, it lacks traction control, which is standard on Yaris. Additionally, the Yaris has a higher build quality, which contributes to its value.
Honda City is another significant rival of Alsvin with a great market reputation. The City has comparable characteristics and outperforms the Alsvin in terms of fuel efficiency.
Changan Alsvin Specifications
Engine displacement: 1370cc
99 hp torque 135 nm
Engine displacement: 1480cc
105 hp torque 145 nm
1.37L Comfort – Manual five-speed transmission with clever shift recall
1.5L Comfort & Lumiere – Transmission: 5-speed dual-clutch
Changan Alsvin Advantages and Disadvantages
Pros
Economical
Reasonable pricing
Cutting-edge design
Cons
Typical Build Quality
Inadequate speedometer
Inaccessibility of vehicle components