Anti Alzheimer Medicine in Pakistan
Afdol tablets are basically used for the treatment of Alzheimer disease. AGP pharmaceutical is preparing this anti-Alzheimer drug in Pakistan. It is available in two presentations i.e. Afdol 5mg and Afdol 10 mg in Pakistan.
Generic:
Memantine HCl
Therapeutic Class:   
Anti Alzheimers
Composition:   
Each 5 mg Afdol tablet contains Memantine HCl 5 mgEach 10 mg Afdol tablet contains Memantine HCl 10 mg.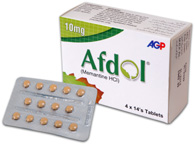 Description:   
Memantine (Afdol) is the first drug to be licensed for moderately severe to severe Alzheimer's disease (AD). It is a N-methyl-D-aspartate (NMDA) receptor antagonist. Its mechanism of action differs from the other licensed treatments for AD, the acetylcholinesterase inhibitors, which are licensed for mild to moderate AD.
Indications:   
Afdol is indicated for the treatment of moderate to severe dementia of the Alzheimer's type.
Dosage:   
The recommended starting dose of Afdol is 5 mg once daily. The recommended target dose is 20 mg/day. The dose should be increased in 5 mg increments to 10 mg/day (5 mg twice a day), 15 mg/day (5 mg and 10 mg as separate doses), and 20 mg/day (10 mg twice a day). The minimum recommended interval between dose increases is one week.
Presentations:   
Afdol 5 mg tablets 10's
Afdol 10 mg tablets 56's