Wrestlers, Pigeon Fanciers, and Kite Flyers
This book is written by Jurgen Wasim Frembgen and Paul Rollier and it is about traditional sports and pastimes in Lahore. Wrestlers, Pigeon Fanciers and Kite Flyers book is published by Oxford University Press Pakistan in 2014. Lahore is city of cheers and full of traditional life along with modern improvements. It is always a pleasure for tourist to visit different places and examine different unique cultural traditions in the city of Lahore.
Wrestling, racing pigeons, and kite flying are emblematic of the Walled City of Lahore. They show the wealth and diversity of Pakistani fold cultures in an exemplary way. Most importantly, they are an expression of happiness and joy. In short, they represent a cultural system and preserve cultural values. This is the first book dealing in detail with these traditional sports and pastimes. The authors argue that these seemingly trivial pleasures form an integral part of social life in Pakistan and create important bonds between various communities.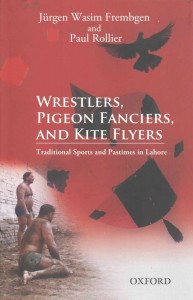 About the Authors
Paul Rollier is currently a post-doctoral research associate in Social Anthropology at the University College London UK.
Jurgen Wasim Frembgen is Chief Curator of the Oriental Department at the museum of Ethnology in Munich, as well as professor in Islamic Studies at the University of Munich, Germany.
Wrestlers, Pigeon Fanciers, and Kite Flyers Book Information
Authors: Paul Rollier, Jurgen Wasim Frembgen
Publisher: Oxford University Press Pakistan
Publishing Year: 2014
Pages: 192
Price: Rs 1350
ISBN: 978-0-19-906918-7