Pakistan Next Army Chief
In Pakistan position of Army Chief is more important than Prime Minister or President because of the paramount importance of this institution. Army is the most established and important institution of the Nuclear Armed Nation and always plays a vital role in every sphere of country's life throughout its history. In present scenario when Pakistan is in difficult situation, internally and externally, the future course of country depends a lot on the person who will succeed General Raheel Sharif as Army Chief. The question with which we are dealing here is that who will be Pakistan next Army Chief?
General Raheel Sharif is considered as one of the most reputed and popular Army Chiefs in history because he took the charge of Army when country was in grave situation and steered the country from very difficult situation to a relative stability. His resolve to get rid of terrorist and clear the Pakistan's territory form those foreign elements is praiseworthy. Furthermore he is not only the man of words but man of action. Through Operation in Karachi and Zarb-eAzab in tribal areas, he established the diminishing writ of state in these areas.
Who will be next Army Chief of Pakistan after Raheel Sharif ?
Although there are rumors and news about the tenure extension of General Raheel Sharif, yet General himself publically expressed that he will retire and will not accept any extension. In these circumstances, General Raheel Sharif will retire on 29 November 2016 along with current Chairman Joint Chiefs of Staff Committee General Rashid Mehmood.
Lt. General Zubair Mehmood Hayat had been appointed as Chief of Staff in April 2015 and the post is considered as an important position for grooming of next Chief of Army Staff (COAS). Another Strong Candidate for the post is General Qamar Javed Bajwa who is currently serving as Inspector General of Training and Evaluation. On 26 November 2016 PM Nawaz Sharif appointed  General Qamar Javed Bajwa as New Chief of Army Staff and appointed General Zubair Mehmood Hayat as Chairman Joint Chief of Staff.
On 26 November 2016, Prime Minister of Pakistan Nawaz Sharif appointed General Qamar Javed Bajwa as the Army Chief of Pakistan. General Qamar Javed Bajwa is four-star Army General who is selected as 16th Army Chief of Pakistan Army is on No. 4 in seniority list. New Chief of Army Staff also served as Principle Staff Officer of retiring Army Chief General Raheel Sharif. For read more about General Qamar Javed Bajwa click on this link.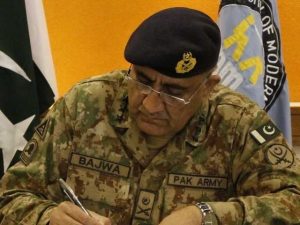 Lt. General Zubair Mehmood Hayat
Zubair Mehmood Hayat belongs to a family with deep-rooted army affiliations. His father, Major General Aslam Hayat served in Army. Other siblings of Zubair Mehmood Hayat are also serving in Armed forces. His brother Lt. General Omar Mahmood Hayat is the head of Ordnance Factories at Wah. Third Hayat brother, Major General Ahmad Mahmood Hayat is DG Analysis in ISI. Recently General Raheel Sharif gave the charge of the SPD and commanded Corps to Zubair Mehmood Hayat which also indicates his importance in the higher ranks of Army. Here it is worth mentioning that Zubair Mahmood is the not the senior most high rank officer in Army.
Although seniority is an important criterion for the appointment of Army Chief, yet it was seldom followed. The current Army Chief Raheel Sharif himself superseded 2 seniors to become Army Chief. In the past General Zia ul Haq was appointed by PM Bhutto as an Army Chief by superseding 7 senior Officers.