Nishan e Haider
"Is there anything more important than one's life?", someone asked question to brave soldier. "Yes, the cause for which I happily sacrifice my life", brave soldier replied.  Nishan-e-Haider is the highest military award in Pakistan. That gallantry award can only be awarded to the brave men of Armed forces for their extra-ordinary courage and bravery. Nishan e Haider is Urdu language word which literary means "Mark of Lion", Haider is the name of legendary Muslim Caliph Hazrat Ali who is known for his bravery.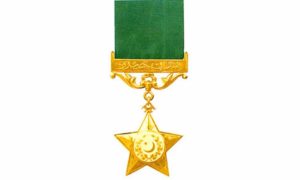 Nishan e Haider History
Nishan-e-Haider was created on 16 March 1957 but it was applied from the date of Pakistan's Independence. It is only awarded to those men who sacrifice their lives while performing their duties with extra-ordinary bravery. Nishan e Haider is only awarded to the 11 persons so far in the history of Pakistan.
Total Number of Persons who received Nishan e Haider
There is some confusion regarding the total number of person as some websites mentioned that there are 10 Nishan e Haider recipients. But we have verified from the sources in Pakistan Army that there are officially 11 recipients of Nishan-e-Haider as Naik Saif Ali Janjua of Azad Kashmir Regiment is also the recipient of Nishan e Haider, he was awarded Hilal-e-Kashmir award after he sacrificed his life on 26th April 1948, later on Hilal-e-Kashmir became equivalent to Nishan e Haider.
Comparison between British Victoria Cross, US Medal of Honor and Nishan e Haider
Although many people consider it equivalent to British Victoria Cross and US Medal of Honor but it is unique and distinct from the other two awards. While United States Medal of Honor is so far awarded to 3515 persons since it was first awarded in 1863 and British Victoria Cross is awarded to 1358 persons since its establishment in 1856, Nishan e Haider is only awarded to 11 persons. Another important distinction is that Nishan e Haider is only awarded posthumously.
Nishan e Haider Medal Composition
The medal is made from the captured enemy equipment and it is mixture of copper, tin and zinc.
The 11 persons who received this honorable award are truly the legends because so far thousands of soldiers and Army officers of Pakistan Armed Forces sacrificed their lives for the country but only 11 received this award.
Nisha e Haider List
Here is the list and details of those brave soldiers who received this legendary award in the history of Pakistan in chronological order.
1.Raja Muhammad Sarwar
Captain Raja Muhammad Sarwar Khan was born on 1910 in Gujar Khan, Rawalpindi District. Born in Rajput family he was commissioned in British Indian Army in 1944 and assigned to Punjab Regiment. In 1947, he took part in First Kashmir War as Captain. He fought with extraordinary bravery against Indian Army and became martyr on 27 July 1947. He became the first person to be awarded Nishan E Haider.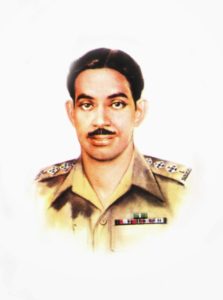 2.Naik Saif Ali Janjua
Saif Ali Janjua belongs to Azad Kashmir Regiment. He fought with extra-ordinary courage in 1948 Indo-Pak war and embraced martyrdom on 26 April 1948. He was awarded with Hilal-e-Kashmir award at that time. Later on Pakistan Army decided that Hilal-e-Kashmir award is equivalent to Nishan e Haider and hence Saif Ali Janjua became part of that legendary list of Nishan e Haider recipients.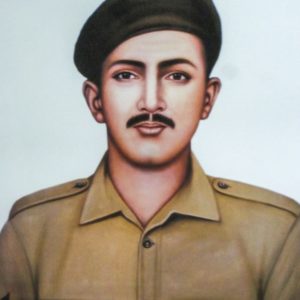 3.Tufial Muhammad Gujjar
Major Tufail was born in 1914 in Hoshiarpur, Punjab in Gujjar family. He was commissioned in British Indian Army and assigned to the Punjab Regiment. In 1958, Major Tufail was serving in East Pakistan as company commander of East Pakistan Rifles. On 7 August 1958, Indian Army captured a border village and he launched an assault on Indian aggressors. He was injured by three bullets during the skirmish but he fought with bravery and killed many Indian soldiers not only with his gun but also with his hand in close combat. He was rushed to hospital after Indian Army retreated but he succumbed to the wounds. An interesting thing about Major Tufail is that he is the only recipient of Nishan e Haider who won that award outside the Indo-Pak wars.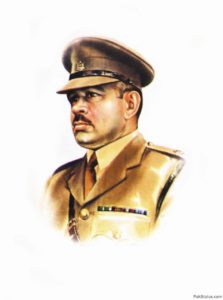 4.Raja Abdul Aziz Bhatti
Major Raja Abdul Aziz Bhatti is also known as "Muhafiz e Lahore" (Protector of Lahore). Aziz Bhatti was born on 1928 in Rajput Family. He got commission in 1950 and assigned to Punjab Regiment. In Indo-Pak war of 1965, he fought with extra-ordinary courage against attacking Indian Army in Burki Sector of Lahore. He stooped the Indian Army attack with his courage and leadership and became martyr in a process. He is considered as the most celebrated officer in history of Pakistan Army.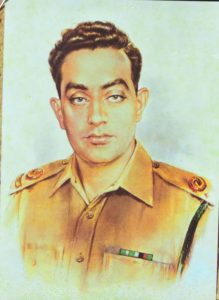 5.Rashid Minhas
Rashid Minhas was Pilot Officer in Pakistan Airforce. He is the only PAF Officer to receive the Nishan e Haider. Rashid Minhas is not only the youngest person to receive this prestigious award but also the shortest-serving officer among all other Nishan e Haider recipients. During 1971 Indo-Pak war, He was flying with senior instructor Matiur Rahman, a Bengali by origin, who tried to hi-jack the jet to India but Rashid Minhas fought with him in plan and as a result jet was crashed along with its two passengers.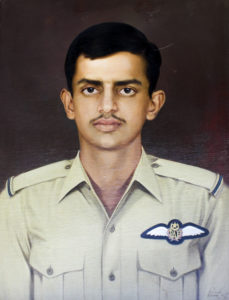 6.Rana Shabbir Sharif
Major Shabbir Sharif is one of the most decorated soldiers in history of Pakistan Army and also known as Army's Superman. He also received "Sitara e Jurat and Sword of Honor for his bravery in the service. He has unique honor of having three most prestigious awards of Pakistan Army. Interestingly he is the nephew of another Nishan e Haider recipient, Raja Aziz Bhatti and elder brother of ex-Pakistan Army Chief General Raheel Sharif. During 1971 war he fought and died in extra-ordinary circumstances to become martyr.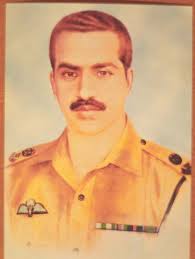 7.Muhammad Hussain
Muhammad Hussain Janjua was born on 18 June 1949 at Dhok Pir Baksh, Rawalpindi. He joined Pakistan Army as driver but took active part in combat during Indo-Pak war of 1971. He embraced martyrdom on 10 December 1971 and became the first Jawan(lowest rank in Pakistan Army) to be awarded the highest military award of Nishan e Haider.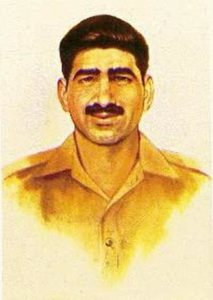 8.Muhammad Akram
Major Muhammad Akram was born on 25 September 1941 in Karachi. His unit was 4 Frontier Force Regiment and he embraced the martyrdom during 1971 Indo-Pak war at Battle of Hilli.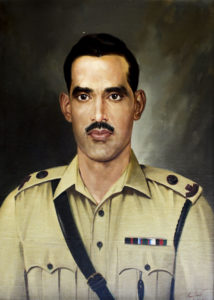 9.Muhammad Muhafuz
Lance Naik Muhammad Muhafiz was born on 25 October 1944 at Pind Malkan, Rawalpindi. His Unit was 15 Punjab Regiment and he became martyr during 1971 Indo-Pak war. On 23 March 1972, he was awarded with Nishan e Haider for his bravery in battle field.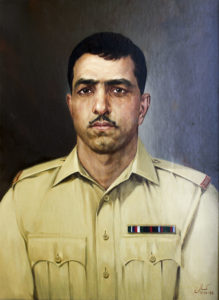 10.Sher Khan
Captain Sher Khan is commonly known as Kernal Sher Khan (Kernal is localized form of Army Rank Colonel). His father gave him the nick name Kernal, as he wanted his son to become an Army Officer. He was born on 1 January 1970 at Swabi, Khyber Pakhtunkhwa. His unit was 27 Sind Regiment and later 12 Northern Light Infantry. He embraced the martyrdom during Kargil War of 1999.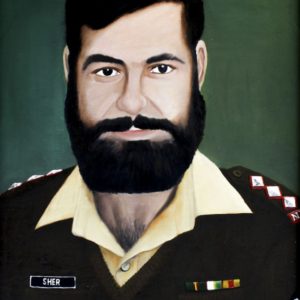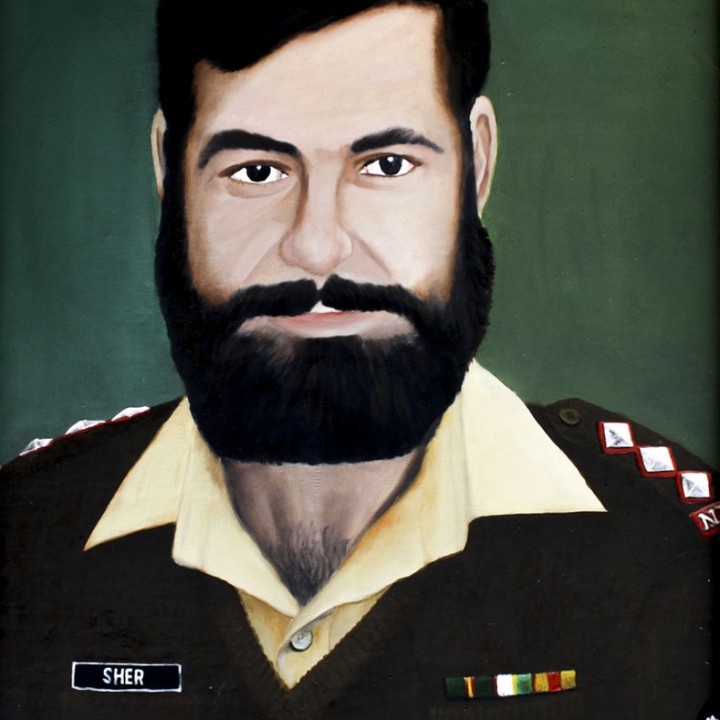 11.Lalak Jan
Havaldar Lalak Jan Shaheed is the last and most recent recipient of Nishan e Haider. He was born on 1 April 1967 in Yasin Valley, Northern Areas, Pakistan now called Gilgit-Baltistan. During Kargil war of 1999 he fought and died bravely against Indian Army and received the Nishan e Haider.