NA 55 Rawalpindi-VI
NA 55 is constituency for the seat of Pakistan's National Assembly. It is also known as NA 55 Rawalpindi-VI. There are total seven National Assembly seats in Rawalpindi and NA 55 is sixth of these seven seats from Rawalpindi District of Punjab Province. This constituency was created before the General Election of 2002.
In 2002 the constituency was named as NA-54 and PPP's Zamurd Khan won the seat because there was no Nissar Ali Khan. In 2008 Election, Malik Ibrar Ahmad of PML-N won the seat. In 2013 General Election again Malik Ibrar Ahmad won the seat on PML-N Ticket.
In 2002 General Elections, Shaikh Rasheed Amhad won the seat as an Independent Candidate. In 2008 General Election Makhdoom Javed Hashmi won the seat on PML-N Ticket. He defeated 2nd position Amir Freed Paracha (PPP) and 3rd position Shaikh Rasheed Ahmad (PML-Q). Javed Hashmi left the seat and decided to retain other NA seat which he won and by-Election was held same year which Pervaiz Khan won on PML-N Ticket. Again a by-Election was held on the seat in 2010 and Malik Shakeel Awan of PML-N won the seat. In General Election 2013, Shaikh Rasheed won the seat as chairman of his party Awami Muslim League.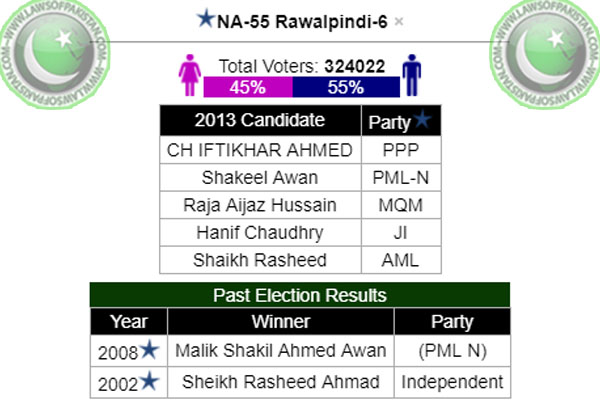 2002 Election Winner: Shaikh Rasheed Ahmad (Independent)
2008 Election Winner: Javed Hashmi (PML-N)
2008 by-Election Winner: Pervaiz Khan (PML-N)
2010 by-Election Winner: Malik Shakeel Awan (PML-N)
2013 Election Winner: Shaikh Rasheed Ahmad (AML)
The areas/localities of this constituency consist of Rawalpindi Cantt and following charges of Rawalpindi City;
Charge No.1
Charge No.2
Charge No.3
Charge No.8
Charge No.9
Charge No.10
Charge No.11
Population Statistics
Population-487937
Male -139131
Female-115819
Total-254950