NA 48 Islamabad-I / NA-48 Pakistan
NA 48 is a constituency for the seat of Pakistan's National Assembly from Islamabad. Islamabad is the Capital of country and sends two representatives of National Assembly.  Islamabad is not among the most populous and largest cities of Pakistan and hence only has 2 seats in National Assembly i.e. NA 48 Islamabad-I and NA-49 Islamabad-II.
Electoral areas of this constituency include localities of Golra Sharif, Pari and Shahrah. National Highway N5 also passes through this constituency.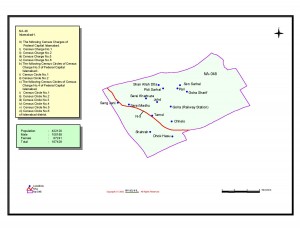 NA 48 Islamabad-I Important Localities & Areas
Sen Sarhal
Pari
Golra Sharif
Golra
Chhelo
Dhok Hasu
Shahrah
Tarnol
Sarai Madhu
Johd
Sarai Kharbuza
Pidi Sarhal
Shan Allah Dtta
Sang Jani
NA 48 Islamabad-I Town Committees/ Municipal Committees/ Qanungo Halqas/ Tehsils/ Patwar Circles
Following Census Charges of Federal Capital Islamabad;
Census Charge No.1
Census Charge No.2
Census Charge No.5
Census Charge No.6
Following Census Circles of Census Charge No.3 of Federal Capital Islamabad;
Census Circle No.2
Following Census Circles of Census Charge No.4 of Federal Capital Islamabad;
Census Circle No.1
Census Circle No.2
Census Circle No.3
Census Circle No.4
Census Circle No.5
Census Circle No.6
Population Statistics of NA-48 Islamabad-I
Population-422120
Male -100188
Female-87241
Total-187429