NA 258 Karachi-XX / NA-258 Pakistan
NA 258 is a constituency for the seat of Pakistan's National Assembly from Karachi. Karachi is the largest city of Pakistan and it sends more representatives to the National Assembly of Pakistan than any other city of country. There are total 20 National Assembly seats of Karachi from NA 239 to NA 258. NA 258 is also known as NA-258 Karachi-XX and it is the last of total 20 constituencies of Karachi for National Assembly.
In 2002 General Elections, Sher Muhammad Baloch of PPP won the seat. In 2008 General Elections, Sher Muhammad Baloch of PPP again won the seat. In 2013 General Elections, Abdul Hakeem Baloch of PML-N won the seat and defeated the PPP candidate. The constituency is traditional stronghold of Pakistan People's Party but in 2013 Elections PML-N candidate surprised everyone with stunning victory.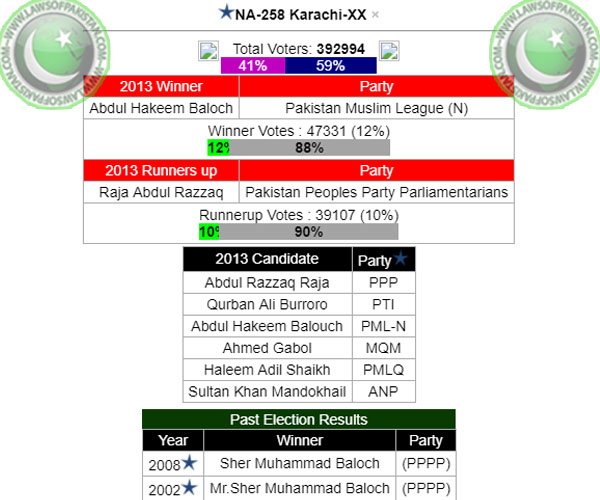 | | | |
| --- | --- | --- |
| Election Year | Winner Name | Party |
| 2002 | Sher Muhammad Baloch | PPP |
| 2008 | Sher Muhammad Baloch | PPP |
| 2013 | Abdul Hakeem Baloch | PML-N |
Population Statistics of NA 258 Karachi
Population-496001
Male -145639
Female-117754
Total-263393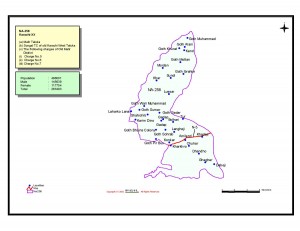 NA 258 Karachi-XX Localities/Areas
Following Charges of Old Malir District are included in this constituency;
Charge No.5
Charge No.6
Charge No.7
Other areas includes;
Malir Taluka
Songal TC of Old Karachi West Taluka
Goth Muhammad
Goth Alani
Goth Khurat
Kand
Goth Mottan
Moidan
Goth Ibrahim
Sundi
Khar
Lussar
Goth Wali Muhammad
Goth Samar
Laharko Lana
Shahi Chib
Karim Dino
Gadap
Goth Gadar
Bolhari
Tur
Langheji
Goth Sohrab
Konkar
Goth Pir Bux
Kharkhro
Chuhar
Dhandho
Ghangar