NA 195 Rahim Yar Khan-IV / NA-195 Pakistan
NA 195 is a constituency for the seat of Pakistan's National Assembly from Rahim Yar Khan District. District Rahim Yar Khan plays a crucial role in provincial and federal politics because it elects 6 members of Pakistan's National Assembly and 13 members of Punjab Provincial Assembly. It is an important Southern Punjab District and situated at the border of Sindh and Punjab Provinces. NA-192 to NA-197, are the six constituencies of Rahim Yar Khan for National Assembly of Pakistan.
Major towns of this constituency are Ahmad Pur Lamma and some areas of Sadiqabad Tehsil.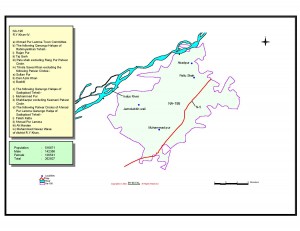 NA 195 Rahim Yar Khan-IV Important Localities & Areas
Abadpur
Pallu Shah
Jamoluddin Wali
Muhammad Pur
NA 195 Rahim Yar Khan-III Town Committees/ Municipal Committees/ Qanungo Halqas/ Tehsils/ Patwar Circles
Ahmad Pur Lamma Town Committee
Following Qanungo Halqas of Rahimyarkhan Tehsil;
Rajan Pur
Taj Garh
Palu Shah excluding Rang Pur Patwar Circle
Trinda Sawai Khan excluding some Patwar Circles
Following Qanungo Halqas of Sadiqabad Tehsil;
Following Patwar Circles of Ahmad Pur Lamma Qanungo Halqa of Sadiqabad Tehsil;
Fateh Katta
Ahmad Pur lamma
Ali Mardan
Muhammad Nawaz Wasa
Population Statistics of NA-195 Rahim Yar Khan-IV
Population-516871
Male -142386
Female-120541
Total-262927