NA 130 Lahore-XIII
NA 130 is constituency for the seat of Pakistan's National Assembly. It is also known as NA 130 Lahore-XIII and last of total 13 National Assembly seats from District Lahore of Punjab Province.
This constituency consists of Awan Doawala, Mahmud Buti, Bhasin, Jallo, Wagah, Manihala, Barki and Padhana localities of Lahore. It is bordering area of Lahore along with Indian border.
This constituency is unique in a sense that it has majority of PPP voters in PML-N stronghold Lahore. In 2002 and 2008 General Elections, Samina Khalid Khurki of PPP won the seat with comfortable majority. But in 2013 General Elections, Sohail Shoukat Butt of PML-N defeated her and won the seat.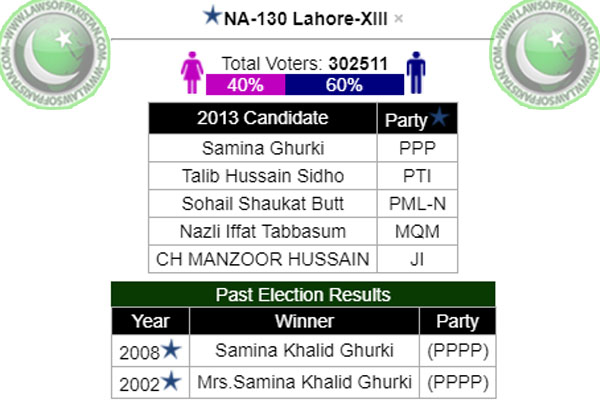 2002 General Elections Winner: Samina Khalid Ghurki (PPP)
2008 General Elections Winner: Samina Khalid Ghurki (PPP)
2013 General Elections Winner: Sohail Shoukat Butt (PML-N)
Total population of NA 130 is 437641 with 136519 males and 105701 females.
NA 130 consists of;
Census Charge No.31 of Lahore Municipal Corporation City District Lahore
Following Qanungo Halqas of Lahore City District
Bhasin
Barki