NA 129 Lahore
NA 129 is constituency for the seat of Pakistan's National Assembly. It is also known as NA 129 Lahore-XII and seventh of total 13 National Assembly seats from District Lahore of Punjab Province.
This constituency includes the localities of Saraieh, Lakheke, Jahman, Asal Gunuki, Karbath, Guru Mangat, Kahna Nau, Kahna Kacha, Jia Bagga and Kadheke.
In 2002 Elections, this seat is won by Major (R) Habib ullah Waraich of PML-Q. In 2008 Elections, Tariq Shabbir of PPP won the seat. In 2013 General Elections, Shazia Mubashir of PML-N won the seat and defeated strong candidates like Muhammad Mansha Sindhu of PTI.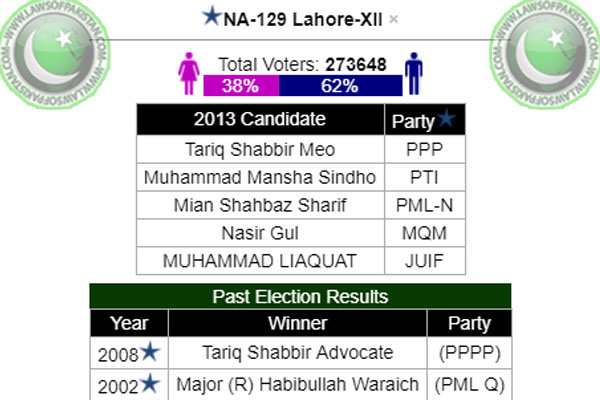 2002 General Elections Winner: Major R Habib ullah Waraich (PML-Q)
2008 General Elections Winner: Tariq Shabbir Advocate (PPP)
2013 General Elections Winner: Shazia Mubashir (PML-N)
Total population of NA 129 is 402630 with 115739 males and 95988 females.
NA 129 consists following Qanungo Halqas of Lahore City District;
Heer
Kahna Nau Qanungo Halqa excluding Haloki Patwar Circle
Following circlesof Raiwand Qanungo Halqa
Ladheke Uche
Lakheke Nevain
Jhedo Dhair
Janjata
Ghang Sharif
Karyal
Jia Bagga