NA 128 Lahore
NA 128 is constituency for the seat of Pakistan's National Assembly. It is also known as NA 128 Lahore-XI and eleventh of total 13 National Assembly seats from District Lahore of Punjab Province.
This constituency includes the localities of Raiwind, Niaz Bag, Manga, Salto Katla, Sadhoke, Halloke, Tarugill, Ramkot, Miraka and Manak. It mainly consists of area surrounding National Highway N5. Other major Areas are Thokar Niaz Beg, Johar Town, Mustafa Town, Wapda Town, Bahria Town, and many villages along Raiwind Road. It is one of the largest constituencies of Lahore.
In 2002 General Elections, Malik Zaheer Abbas of PPP won the seat. In 2008 General Elections, Muhammad Afzal Khokhar of PML-N won the seat. In 2013, General Elections again Afzal Khokhar won the seat and defeated PTI's Karamat Ali Khokhar. There were reports of large scale rigging in that election by winning candidate.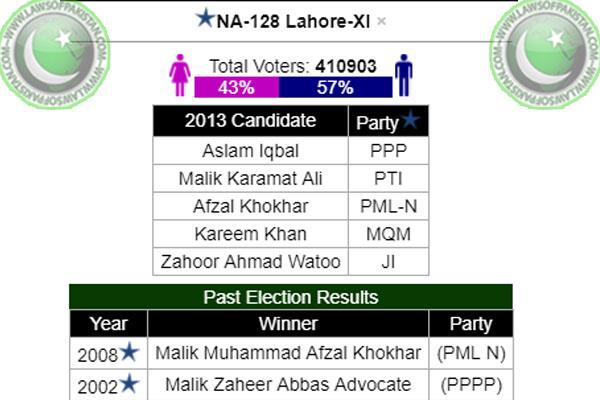 2002 General Elections Winner: Malik Zaheer Abba (PPP)
2008 General Elections Winner: Muhammad Afzal Khokhar (PML-N)
2013 General Elections Winner: Muhammad Afzal Khokhar (PML-N)
Total population of NA 128 is 450758 with 133151 males and 110989 females.
NA 128 consists of;
Raiwind Town Committee
Niaz Bag
Manga
Raiwand excluding certain patwarar circles