NA 119 Pakistan/ NA 119 Lahore-II
NA 119 is constituency for the seat of Pakistan's National Assembly. It is also known as NA 119 Lahore-II and second of total 13 National Assembly seats from District Lahore of Punjab Province. It mainly consists of residential urban area near Ravi River.
This constituency is one of the strongholds of Pakistan Muslim League-N. in General Elections of 2002, Khwaja Saad Rafique of PML-N won the seat in spite of the fact that elections were held under the rule of Army Chief Musharraf. In 2008 Elections, Hamza Shehbaz Sharif won the seat win huge margins. Hamza Shehbaz is son of Shehbaz Shairf and nephew of PML-N Supremo Nawaz Sharif. Similarly in 2013 Elections again Hamza Shehbaz Sharif of PML-N won the seat with 107,735 votes. Muhammad Madni of PTI was the runners up in the constituency in Elections 2013.
Election 2013 Winner: Hamza Shehbaz Sharif (PML-N)
Election 2008 Winner: Hamza Shehbaz Sharif (PML-N)
Election 2002 Winner: Khawaja Saad Rafique (PML-N)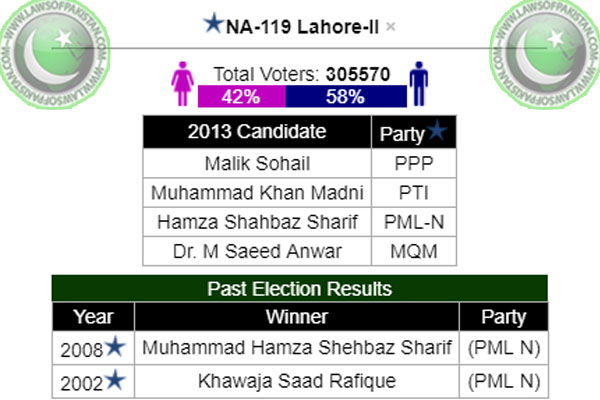 Total population of NA 119 is 517597 with 151523 males and 132995 females.
NA 119 consists of total 14 charges of Lahore Municipal Corporation City District Lahore as given below;
Charge No.6
Charge No.7
Charge No.8
Charge No.9
Charge No.10
Charge No.11
Charge No.12
Charge No.13
Charge No.14
Charge No.15
Charge No.18
Charge No.65
Charge No.66
Charge No.67