Hair fall is a common issue faced by both men and women of different ages group despite all the possible efforts made by people to prevent its occurrence still it is a prevailing problem that not only makes you look far older than your age but also creates an inferiority complex in people. People often rush toward a dermatologist or start using costly medicated shampoos, but they don't pay attention to the leading cause of this issue. there are various causes like genetic causes of hormonal imbalance but the most important one is your diet i.e., the food you consume. proper dietary patterns and an appropriate lifestyle are not only important for your bodily health but also for your physical well-being. The healthy food you consume strengthens your body and also decreases the chances of the occurrence of such issues to a fairly low level. So despite wasting your money and time visiting various clinics and buying costly medicines and shampoos, all you have to do is to spend this money on improving your diet. A simple answer to the questions of what to eat when to eat and how to eat will solve all your problems .here we will focus on a diet that will not only decrease hair fall but also strengthen your hair follicles and speed up the re- growth of your hair.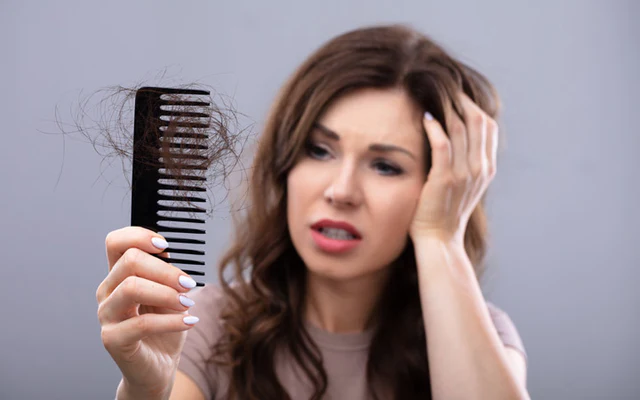 CARROTS: They are rich in beta carotene which plays an important role in maintaining your scalp health and imparts strength to your hair follicles
EGGS: They are a great source of protein and biotin both of them are very important to prevent hair loss. Lack of protein in the diet is the major reason for hair loss .by eating eggs we nourish our body with an adequate quantity of protein which ultimately prevents hair loss
 SPINACH: It contains a high content of vitamins and minerals. the high concentration of iron present in it makes it a remarkable choice in an anti-hair fall diet. Iron is best known for its function of promoting hair growth.
OATS: They are packed with omega-3 fatty acids and polyunsaturated fatty acids, that's why considered an ideal food to prevent hair loss they provide the majority of nutrients required by hair
SWEET POTATOE: They contain a high content of vitamin A which is responsible for promoting the production of sebum and keeping your hair moisturized. Furthermore, it also helps to thicken your hair
AVACADO: The reparative properties of vitamin E are responsible for the boost in the overall health of your scalp. A deficiency of vitamin E is associated with hair loss
LOW-FAT DAIRY PRODUCTS: They contain WHEY and CASEIN protein so they are very important for hair growth.
BEANS: They are loaded with zinc which helps in hair repair and hair growth cycle. They are a source of plant-based protein which is important for hair growth
SEEDS: They are a good source of vitamin E. FLAX seeds; CHIA seeds contain omega 3 fatty acids essential for hair growth.
LENTILS AND CHICKPEAS: Rich in folic acid and protein and hence plays an important role in hair health
KIWI: The vitamin C content in KIWI helps the iron to be absorbed at a greater pace. Hence proving to be a remarkable fruit to prevent hair fall
BERRIES:  They are packed with vitamin C which has antioxidant activity, and plays an important role in protecting hair follicles from damage by free radicals
 FATTY FISH: It is an important source of omega-3 fatty acids, which has a direct relation with hair growth
 NUTS: They contain a high content of vitamin E. They have been proven very beneficial for hair growth
 BEETROOT JUICE: It contains vitamin C and vitamin b6, magnesium, potassium, and iron. It helps to prevent inflammation of the scalp
GREEN TEA: It stimulates hair production and revitalizes hair follicles
ANTI HAIRFALL HERBS:
Shikakai: Shikakai is best known for its hair benefits. Take powdered shikakai and make its paste by mixing it with leuk warm water and massaging it over your scalp. Doing this will strengthen your hair and stops hair thickening.it is also used as a hair cleanser
 Wild Basil: As they are anti-inflammatory, they prevent the inflammation of the scalp. It has remarkable benefits starting from strengthening of hair to prevent breakage of hair, hair fortification, and improving blood circulation and hair growth.
Amla:  They are loaded with vitamin C which stimulates collagen production and promotes healthy hair generation.
Hibiscus: Hibiscus flowers contain vitamins and antioxidants which help in promoting hair growth and prevent the thickening of hair
Rosemary: Its oil help to induce hair growth
ALEO VERA: Aloe Vera helps to maintain the pH level as well as sebum production. This effectively prevents hair loss and also encourages hair growth and great scalp health.
WHAT TO AVOID:
Refined carbs
Sugary foods
Alcohol
Smoking
Carbonated drinks
ADDITIONAL TIPS
Stay hydrated
Adequate sleep
Meditate
Make time for yourself
Exercise regularly
MINI DIET PLAN
Breakfast: oat meal +dry fruits + berries
Snack: sweet potatoes
Lunch: lentils +1 tortilla +veggie dip with yogurt
Snack: chickpea chaat also called chana chaat
Dinner: fish pakora with salad
CONCLUSION: A healthy diet is a path that leads to a prosperous life and also acts as a shield to protect you from existing as well as emerging issues. Hair fall can be due to an inadequate supply of nutrients because of your poor dietary choices. above all try to include foods rich in vitamin C, vitamin D, vitamin E, omega 3, iron, biotin, and essential fatty acids like flaxseeds chia seeds, pumpkin seeds, sunflower seeds, and vitamin A.
Note: The Article is written by Miss Mahrukh Maqbool who is an expert in the field of Food and Nutrition.