Difference between Suzuki Cultus VXR and VXL
Recently Suzuki Pakistan launched a fully-loaded hatchback car with name of New Suzuki Cultus in Pakistani auto market. The sleek and dynamic car comes with impressive 1.0L K-series, fuel efficient engine and dual SRS airbags. Although there are all modern features in this stylish car yet the one problem is its high price. According to many market analyst and experts the price is high as compared with other hatchbacks in the market. In this price rang better imported Japanese cars are available in the market. Company introduced two variants of New Suzuki Cultus 2017;
Suzuki Cultus VXR
Suzuki Cultus VXL
There are some difference between New Suzuki Cultus 2017 VXR and VXL which are given as under.
1.Price Difference between New Cultus 2017 VXR & VXL
First and most important difference between both variants of New Suzuki Cultus 2017 is the price. The basic variant Cultus VXR comes in 1250,000 Pakistani rupees. New Cultus VXL which is high-end variant comes in 1391,000 Pakistan rupees. Hence the difference between VXR and VXL is about 141,000 rupees.
2.Difference of Wheel type
New Cultus 2017 VXL comes with alloy wheels while VXR has steel Rims with wheel cups.
3.Power Windows
Cultus VXL has power windows while VXR comes with old style handle through which you have to pull the mirror up or down with your own hand.
Suzuki Cultus VXL has modern Anti-Lock Braking System (ABS) while Cultus VXR has simple brakes.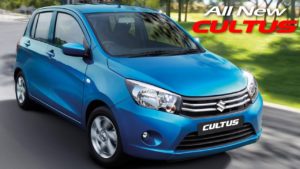 5.Air Bags
Presence of Dual Air-Bags is the most important difference between both variants of Suzuki Cultus. Suzuki Cultus VXL comes with this latest safety feature but VXR don't have this feature. Dual Air-Bags means it has air bags not only for driver but also for passenger on front seat.
6.Front Fog Lights
VXL comes with stylish front fog lights while simple Cultus doesn't have fog lights.
Other minor differences includes;
Electronically Adjustable Side Mirrors
Charging Dock (inside center cup holder)
Vanity Mirrors
Body Color Side mirrors and Door handles
Boot Shelf
Front Grill with black highlights
4 Audio Speakers
These above-mentioned are the differences between Suzuki Cultus VXR and VXL. Overall New Suzuki Cultus 2017 is perfect hatchback car but with high price tag we will have to wait for the response of Pakistani customers.