Sudanese President Omar al-Bashir threatened on Wednesday to overthrow the `insect` government of South Sudan, amid global efforts to pull the rivals from the brink of all-out war after the South seized a key oilfield.
"Our main target from today is to liberate South Sudan`s citizens from the SPLM (Sudan People`s Liberation Movement), and this is our responsibility before our brothers in South Sudan," Bashir said, adding that the southern government cannot be called a `movement`.
We call it an insect … trying to destroy Sudan, and our main target from today is to eliminate this insect completely.
He spoke at a youth rally in support of troops who hope to reclaim Sudan`s most important oil field, Heglig, from South Sudanese troops who seized it eight days ago.
`There are two choices: Either we end up in Juba or they end up in Khartoum. The old borders cannot take us both,` Bashir said, predicting that the victory will be swift.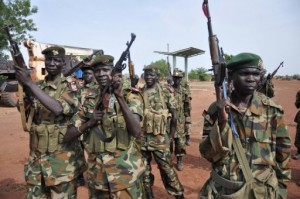 `In a few hours you are going to listen to good news from your brothers in Heglig,` he told about 3,000 young people, some of them dressed in military gear.
`Heglig will not be the end. The end will be in Juba,` the South`s capital, said Bashir, whose audience sang songs about jihad, or holy war.
While Bashir forecast a swift victory, a foreign ministry official said Sudan is pursuing both military and diplomatic measures to getSouth Sudan out of the area.
`Military steps are underway … and they are calculated measures,` Omar Dahab, head of the ministry`s crisis team, told a news conference.
`At the same time, they are taking into consideration the diplomatic and good offices efforts regarding the ending of the occupation.
`We have to end the occupation by hook or crook, by either way.
Sudan`s military has released virtually no information about the situation on the ground but South Sudan has vowed to hold its positions in Heglig, despite air strikes.Clashes broke out last month in the Heglig area and escalated last week with waves of aerial bombardment hitting the South and Juba`s seizure of the oil centre on April 10.
The United Nations, the United States and the European Union have criticised the South`s occupation of the north`s most important oil field, equally denouncing Sudanese air strikes against the South.
There are widespread fears that the fighting, which began with skirmishes in the same area in late March and intensified last week, will spread.
It is already the worst since South Sudan won independence in July after a 1983-2005 civil war which killed two million people.
On Tuesday, the UN Security Council discussed possible sanctions against Sudan and South Sudan in a bid to halt a wider war.
But Dahab, of Khartoum`s foreign ministry, said penalising both the aggressor and the victim would be wrong.
`It is clear that that is not fair,` he said. `Logically it should be directed to the aggressor.
For its part, the African Union renewed its demand for both sides` forces to leave the region.
Air strikes have killed several South Sudanese civilians and earlier this week damaged a UN peacekeeping camp in the South`s Unity State.
The two Sudans are locked `in a logic of war,` with hardliners controlling both countries, international peace envoys told the UN Security council.
Although South Sudan disputes it, Heglig has been internationally recognised as being part of Sudan.
Princeton Lyman, the US special envoy on Sudan and South Sudan, is expected in Khartoum on Thursday after a meeting in the South`s capital Juba with President Salva Kiir.
His message will stress `that we need an immediate and unconditional cessation of violence, and we need both sides to get back to the AU process