Pakistan Nuclear Weapon
Congressional Research Service published a comprehensive report about the Nuclear Weapons of Pakistan. It was published in June 2016 and provides a detail insight into the Pakistan's Nuclear Program. In this post you can read the summary of that American report about the Pakistan's Nuclear Program.
Pakistan's Nuclear Program (Summary)
Pakistan's nuclear arsenal probably consists of approximately 110-130 nuclear warheads, although it could have more. Islamabad is producing fissile material, adding to related production facilities, and deploying additional nuclear weapons and new types of delivery vehicles. Pakistan's nuclear arsenal is widely regarded as designed to dissuade India from taking military action against Pakistan, but Islamabad's expansion of its nuclear arsenal, development of new types of nuclear weapons, and adoption of a doctrine called "full spectrum deterrence" have led some observers to express concern about an increased risk of nuclear conflict between Pakistan and India, which also continues to expand its nuclear arsenal.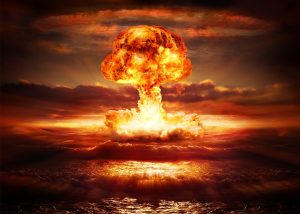 Pakistan has in recent years taken a number of steps to increase international confidence in the security of its nuclear arsenal. Moreover, Pakistani and U.S. officials argue that, since the 2004 revelations about a procurement network run by former Pakistani nuclear official A. Q. Khan, Islamabad has taken a number of steps to improve its nuclear security and to prevent further proliferation of nuclear-related technologies and materials. A number of important initiatives, such as strengthened export control laws, improved personnel security, and international nuclear security cooperation programs, have improved Pakistan's nuclear security.
However, instability in Pakistan has called the extent and durability of these reforms into question. Some observers fear radical takeover of the Pakistani government or diversion of material or technology by personnel within Pakistan's nuclear complex. While U.S. and Pakistani officials continue to express confidence in controls over Pakistan's nuclear weapons, continued instability in the country could impact these safeguards. Furthermore, continued Indian and Pakistani nuclear weapons development could jeopardize strategic stability between the two countries.