NA 87 Jhang-II / NA-87 Pakistan
NA 87 is a constituency for the seat of Pakistan's National Assembly from Jhang District. Jhang is one of the largest cities of Punjab Province. There are total 6 National Assembly seats of Jhang i.e. NA-86 to NA-91. Jhang plays crucial role in National and Provincial politics due to large number of constituencies.
Main town of this constituency is Bhowana and some parts of Chiniot Tehsil.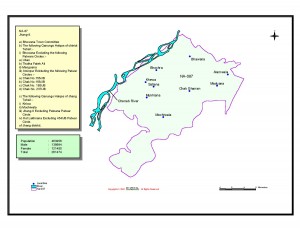 NA 87 Jhang-II Important Localities & Areas
Bhawana
Bhochra
Khewa
Satiana
Chak Gharran
Maduana
Alamwala
Mukhiana
Mochiwala
NA 87 Jhang-II Town Committees/ Municipal Committees/ Qanungo Halqas/ Tehsils/ Patwar Circles
Following Qanungo Halqas of Chiniot Tehsil;
Bhowana excluding some Patwar Circles
Mangoana
Aminpur excluding some Patwar Cricles
Following Qanungo Halqas of Jhang Tehsil;
Khiwa
Mochiwala
Jhang II excluding Patoana Patwar Circle
Kot Lakhnana excluding 454/JB Patwar Circle
NA 78 Jhang-II Population Statistics
Population-463956
Male -139994
Female-121480
Total-261474