NA 72 Mianwali-II / NA-72 Pakistan
NA 72 is a constituency for the seat of Pakistan's National Assembly from Mianwali District. Mianwali is situated in the North-West of Punjab Province along the Eastern bank of River Indus. Mianwali has 2 seats in National Assembly of Pakistan which are NA-71 and NA-72.
Voters of this constituency are mainly composed of urban population of Mianwali City.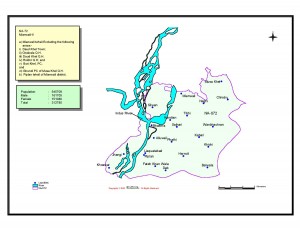 NA 72 Mianwali-II Important Localities & Areas
Musa Khel
Chhidru
Naghi
Mianwali
Tibbi
Wanbhachran
Kunddian
Sajhari
Silwan
Bhakhra
Alluwali
Phathi
Kabari
Khichi
Harnoli
Balwala
Dab
Fateh Khan Wala
Piplan
Liaquatabad
Jhangi
Khoawar
NA 72 Mianwali-II Town Committees/ Municipal Committees/ Qanungo Halqas/ Tehsils/ Patwar Circles
Mianwali Tehsil excluding the following areas;
Daud Khel Town
Chakrala QH
Daud Khel QH
Rokhri QH
Bori Khel PC
Ghundi PC of Musa Khel QH
Piplan Tehsil of Mianwali District
NA 78 Mianwali-II Population Statistics
Population-545709
Male -161705
Female-151080
Total-312785