NA 196 Rahim Yar Khan-V / NA-196 Pakistan
NA 196 is a constituency for the seat of Pakistan's National Assembly from Rahim Yar Khan District. District Rahim Yar Khan plays a crucial role in provincial and federal politics because it elects 6 members of Pakistan's National Assembly and 13 members of Punjab Provincial Assembly. It is an important Southern Punjab District and situated at the border of Sindh and Punjab Provinces. NA-192 to NA-197, are the six constituencies of Rahim Yar Khan for National Assembly of Pakistan.
This constituency includes the city of Rahim Yar Khan which is headquarter of District Rahim Yar Khan.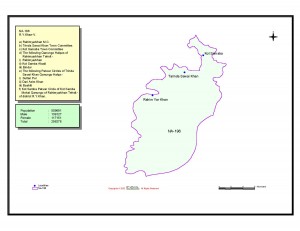 NA 196 Rahim Yar Khan-V Important Localities & Areas
Kot Samaba
Tarinda Sawai Khan
Rahim Yar Khan City
NA 196 Rahim Yar Khan-V Town Committees/ Municipal Committees/ Qanungo Halqas/ Tehsils/ Patwar Circles
Rahim Yar Khan MC
Trinda Sawai Khan Town Committee
Kot Samaba Town Committee
Following Qanungo Halqas of Rahim Yar Khan;
Rahimyarkhan
Kot Samba Abadi
Bindor
Following Patwar Circles of Trinda Sawai Khan Qanungo Halqa;
Sultan Pur
Dari Azim Khan
Bashiti
Kot Samba Patwar Circle of Kot Samba Mohal Qanungo of Rahim Yar Khan Tehsil
Population Statistics of NA-196 Rahim Yar Khan-V
Population-509691
Male -139127
Female-117151
Total-256278