NA 120 Pakistan/ NA 120 Lahore-III
NA 120 is constituency for the seat of Pakistan's National Assembly. It is also known as NA 120 Lahore-III and third of total 13 National Assembly seats from District Lahore of Punjab Province. The area of this constituency is around Ravi River and National Highway.
NA 120 is an important constituency for PML-N because it is the constituency from where their supremo Nawaz Sharif is elected in 2013 General Elections. He took more than 91 thousand votes and defeated PTI's Yasmin Rashid in Election 2013. In 2008 General Elections, Bilal Yaseen of PML-N won the seat and in 2002 General Elections, Muhammad Perviaz Malik of PML-N won the seat. All previous results shows that this constituency is among those where anybody can win the seat with PML-N support.
Election 2002 Winner: Muhammad Pervaiz Malik (PML-N)
Election 2008 Winner: Bilal Yasin (PML-N)
Election 2013 Winner: Nawaz Sharif (PML-N)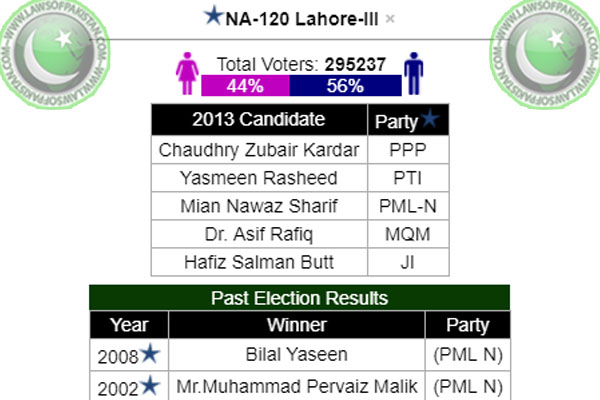 Total population of NA 120 is 456960 with 125877 males and 106923 females.
NA 120 consists of total 10 charges of Lahore Municipal Corporation City District Lahore as given below;
Charge No.49
Charge No.50
Charge No.51
Charge No.52
Charge No.53
Charge No.59
Charge No.60
Charge No.61
Charge No.62
Charge No.63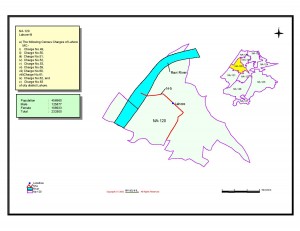 On 28 July 2017, the constituency again came into lime light when Election Commission of Pakistan de-notify the successful candidate Muhammad Nawaz Sharif. The ECP notification was issued after historic judgment of Supreme Court of Pakistan in Panama Case. Prime Minister Nawaz Sharif was dis-qualified to be Member of National Assembly and hence ECP de-notified him.
NA-120 by-Election 2017
Bye-Election was held on 17th September in NA-120 on the seat which fell vacant after the disqualification of Nawaz Sharif. Nawaz Sharif gave ticket to her wife Kalsoom Nawaz to contest election on the seat against PTI' s Dr. Yasmeen Rahid. The constituency is known as the stronghold of PML-N. Throughout campaign Kalsoom Nawaz was in London for her Cancer Treatment and Maryam Nawaz ran the campaign.
In by-election of 17th September, Kalsoom Nawaz of PML-N won the seat as she grabbed 61745 votes. Dr. Yasmeen Rashid bagged 47099 votes and PPP's candidate managed to get only 1414 votes. New Candidate, Sheikh Yaqoob, from Milli Muslim League, new political party backed by Jamaat-ut-Dawa (JUD) got third position with 5822 votes.
Although Kalsoom Nawaz won but to many analyst this victory is only symbolic as in General Election Nawaz Sharif bagged 92k votes as compared with this election where PML-N got 61K votes.