Chymoral Forte     
Basic purpose of Chymoral Forte is to reduce the healing process and reduce the pain of wound. This anti-inflammatory enzyme is prepared by AGP Pharmaceuticals in Pakistan drug market. Chymoral Forte is available in only one presentation in local drug market.
Generic:
Trypsin, Chymotrypsin
Therapeutic Class:    
Anti-inflammatory enzyme
Composition:    
Each enteric-coated tablet of Chymoral Fort contains trypsin and chymo-trypsin in ratio of approximately 6 to 1 and provides enzyme activity equivalent to 100,000 units.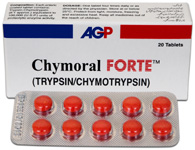 Description:    
Chymoral Forte contains proteolytic anti-inflammatory enzymes, which is used to resolve inflammation, reduce oedema and hasten healing of wound. The pain produced by inflammation is reduced as the inflammation subsides.After trauma and muscle and soft tissue injury Chymoral Forte reduces the recovery time and reduces pain early in the healing phase.
Indications:    
•    Pelvic inflammatory diseases
•    Sprains
•    Fractures
•    Accidental injuries
Dosage:    
1 tablet 4 times daily half an hour before meals.
Presentations:    
Tabs 20's